International Composition Competition

In honor of the ancient Greek poet Pindar ( 522-446 BC) and the Olympic champion of ancient Hellas


Twenty-one compositions from eleven countries - Brazil, Canada, USA, Australia, Japan, Germany, Finland, Greece, the UK, Austria and Spain - were submitted. The jury met on Saturday, the 12th July 2003 under the chairmanship of competition initiator Andreas Drekis in Hellenikon Idyllion. The jury consisted of people from Germany, Austria and Greece.

The jury was impressed by the generally high level of the submitted compositions. Overall, the translated works of the competition task, to make present the ancient Olympic Games to the present, were excellent.



Initiator of the competition :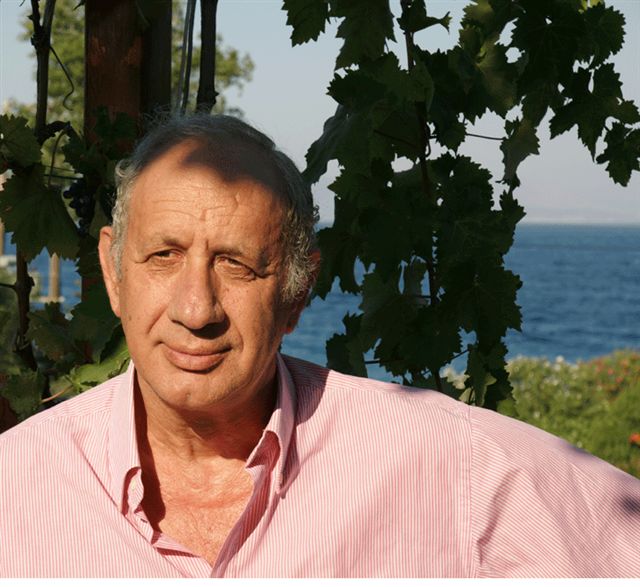 Andreas Drekis

Head of the artistic- cultural meeting "Hellenikon Idyllion " Selianitika, Greece


The jury :

Alois Springer

Chief conductor, music director, Frankfurt am Main

Werner Schulze

Professor at the University of Music and Performing Arts Vienna, Composer, Vienna

Rafaïl Pylarinos


Conductor, composer, Athens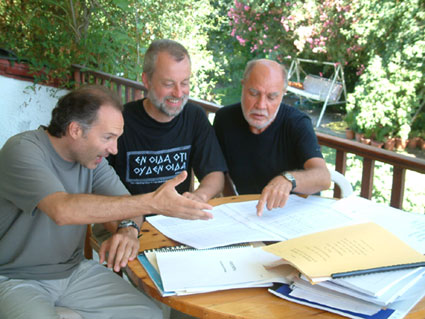 Rafail Pylarinos, Werner Schulze and Alois Springer


1. price

Andrew Michael March ( London, UK )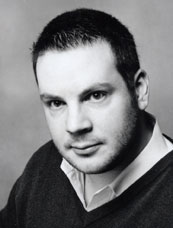 5 Songs of Pindar, for soprano solo, chorus and orchestra -

(1 or 2 piano, 2 flutes, 2 oboes, 2 clarinets in Bb, 2 bassoons,
4 French horns, 2 trumpets in Bb, 2 trumpets, bass trumpet,
Tuba, timpani, bass drum, tom- low 4 tms, crash cymbals,
Stand -mounted medium suspended cymbal, triangle, tam- tam Large,
Large Thunder Sheet, fine grade sand paper block, fine bead maracas, Crotales, chimes, glockenspiel, xylophone, harp, violins, violas, cello, double basses )

Biography :

born in 1973
studied from 1992 - 1996 composition and orchestration with Jeremy Dale Roberts at the Royal College of Music with the conclusion BMus (Hons ) RCM

Performances (selection)

Marine – à travers les arbres (1997)
Moscow Radio Symphony Orchestra, European Union Youth Orchestra , conductor Vladimir Ashkenazy – A Stirring in the Heaven Lies (2000)
London Symphony Orchestra (world premiere)
Nympheas for 2 Pianos (2002)
Premiered at the Royal Palace, Stockholm
5 more performances in and around Scandinavia

Awards (selection)

1996 – Winner in The Royal Philharmonic Society Composition Prize
1998 – Winner of the Master International Composition Competition Prize



An excerpt from the score 5 Songs Of Pindar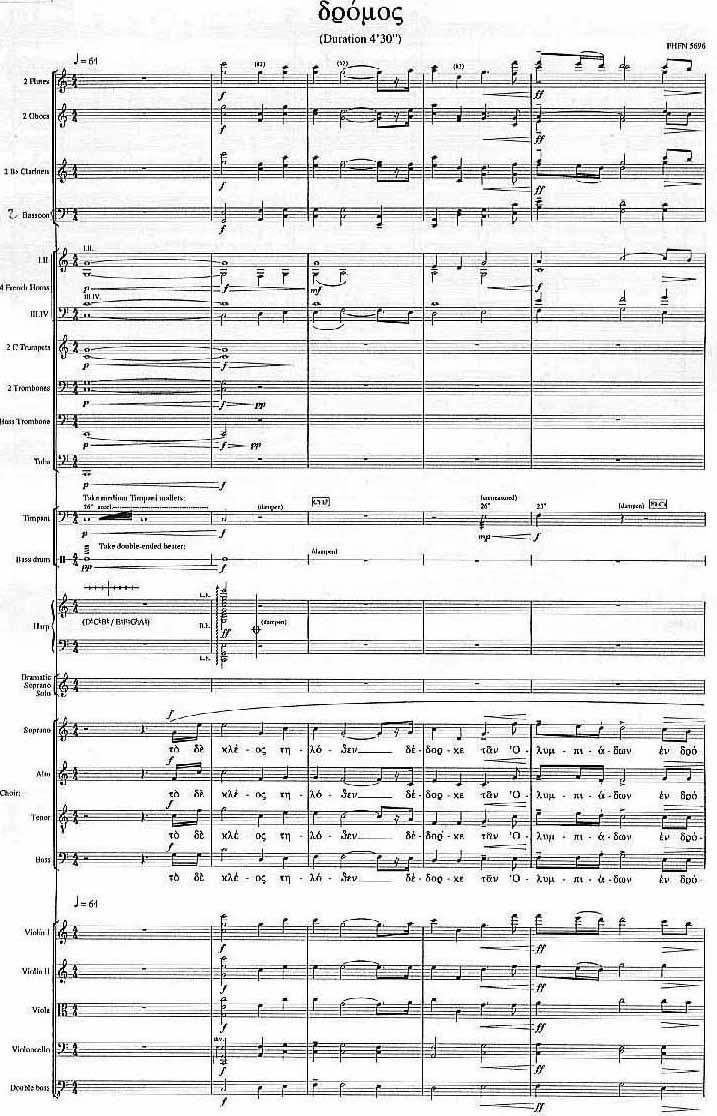 Here is a short video clip of the performance of wrestling from the play by Andrew March, sung by Chorus Urbanus of Malta.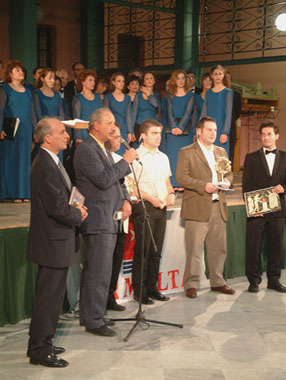 Images from the awards ceremony



The "Wrestling Match" – a piece from the composition of Andrew March :

This competitive discipline has been to Malta choir (without Orchestra), conducted by John Galea, listed in ancient Greek with piano. The concert was held on September 20th at the Archaeological Museum in Egion 2003. Andrew March, the composer, Hernandis Henrique Martinez, the young winners, Alois Springer, one of the three judges and the mayor of Egion were present.

It was a foretaste of the upcoming performances of all compositions honored worldwide with chorus and orchestra.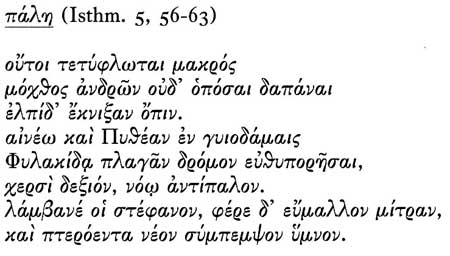 English translation:

Rings ( Isthm. 5, 56-63 )

Not in vain was the great effort of the men ,
and what they have spent, the god confirmed expectation
not disappointed. I praise Pytheas also that he trained slamming the Phylakidas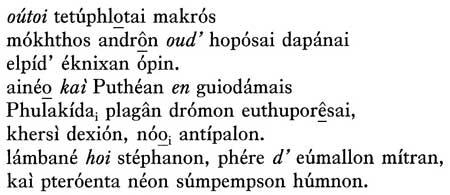 by loosen the limbs. Himself is good with his arms and a forward-thinking opponents. Take the ring for him and bring him the woolen headband.
And send it at the same time a new, far- flying hymn.








2. price

Ken Ito ( Tokyo, Japan)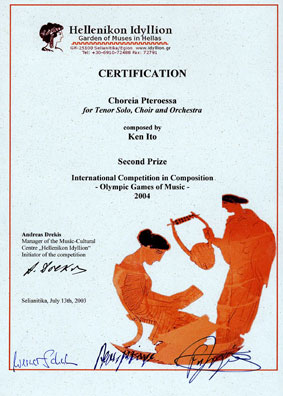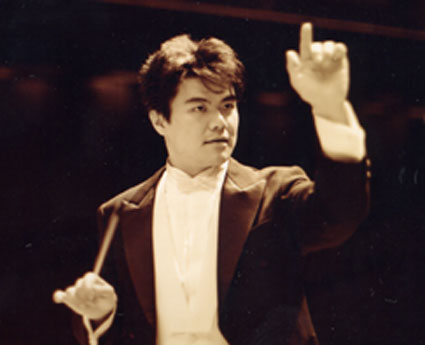 Choreia Pteroessa ( "Flying choir" ) - for tenor solo, chorus and orchestra -

(Flute, piccolo, oboe, Corno Inglais, 2 Bb clarinets, bass, double bass,
4 horns in F, 2 trumpets in C, 2 tenor trumpets, bass trumpet,
Bass tuba, timpani, 2 suspended cymbales , 1 anvil, 1 sistre, 1 triangle,
chromatic cymbales antiques in a water bath, glockenspiel, xylophone,
Vibraphone (no motor, but with double -bass bow), marimba,
1 pair of small crush cymbales, 1 small tam- tam, 2 tom- toms,
2 caw -bells, 1 triangle, 1 chromatic tubular bells, 1 pair of large crush cymbales,
1 gran cassa, 1 tam - tam grave, 1 snare drums, bongos 1 pair, 1 pair of congas,
1 triangle, 1 chromatic tubular bells, celesta, piano, harp, woodwinds, brass, strings)

Biography :

Born in 1965 in Tokyo, studied composition, piano, cello and Physics
in Tokyo

Positions (selection)

Professor of Composition and Conducting, University of Tokyo
musical technological cooperation with major Japanese companies
Collaboration with visual media

Performances (selection)

1998 – Conductor together with the performance of the posthumous work of John Cage "Ocean"
Canningham with Merce and his dance group
2001 – recording of Beethoven's Violin Concerto and Tchaikovsky's Symphony No.5
2002 – conduct of Japan Yomiuri Symphony Orchestra

Awards (selection)

1993 – 1. Price of the Tokyo Metropolitan Orchestra Composition Competition of
1999 – awarded for Toru Takemistu Award , judged by Luciano Berio
2. Price
Shigeru Kan-no (Fukushima, Japan - Hilgenroth, Germany)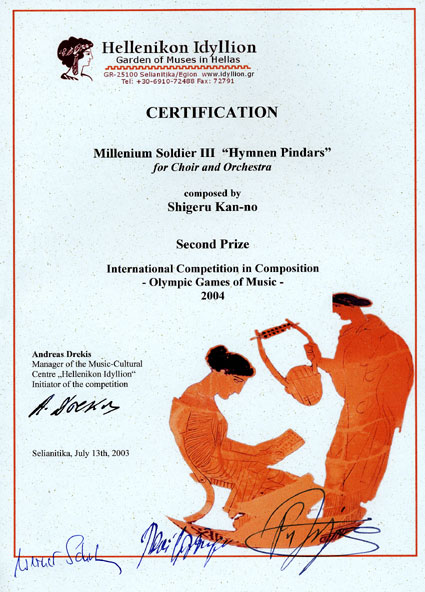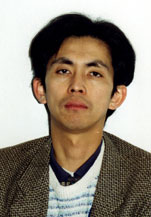 "Millenium Soldier III - Hymnen Pindars" - for Choir und Orchestra -
(2 flutes, 2 oboes, 2 clarinets in A, 2 fagottes, 4 horns in F, 2 trumpets in C,
2 tenor trombone, bass trombone and tuba, timpani, metal percussion,
violins, violas, violoncello, contra bass)
Biogrophy
Born 1959 in Fukushima/ Japan
1980 – 1997 - studied music and musicology in Tokyo, conducting at the college of music Vienna, composition at the college of music Stuttgart and conducting and composition at the college of music Frankfurt
Performances (inter alia)
1986 - 1992 - conducting for example with the Tokyo Symphonie Orchestra and the Radio Symphony Orchestra Stuttgart particularly within the range of "New Music"
1992 - Assistent for Professor Karlheinz Stockhausen with Ensemble Modern Frankfurt
since 1998 - conduction for example at the Lisboa Philharmonic Orchestra and National Symphony Orchestra Uzbekistan
Awards (inter alia)

2000 - 2nd Prize at Quebec/Canada French Chorus Composition Concour
2001 - 3rd Prize at 2 Agosto in Bologna/Italia
2001 - 1st Prize at Cantus Ensemble in Croatia
Special Prize
Aaron David Miller (Bowling Green, Ohio, USA)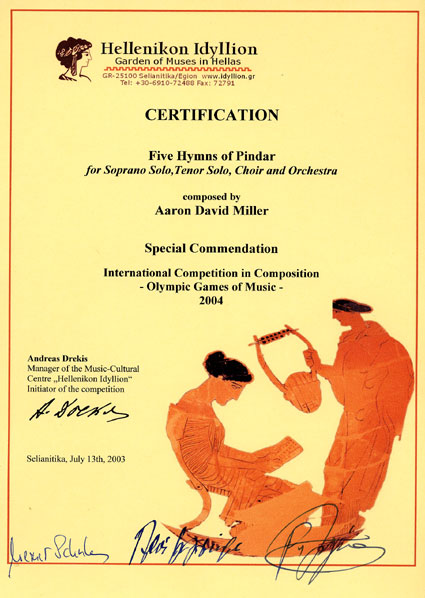 "Five Hymns of Pindar"
for Soprano Solo, Tenor Solo, Choir und Orchestra

(2 flutes, 2 oboes, 2 clarinets in Bb, 2 bassoons, 4 horns in F, 2 trumpets in Bb,
3 trombones, tuba, timpani (4 drums), glockenspiel, chimes, suspended cymbal,
tam-tams, bass drum, tom-toms, sleigh bells, triangel, bell tree, crotales,
snare drums, violins 1&2, violas, cellos, basses)
Biography
born 1972, studied Composition and Organ Performance at the Manhattan School of Music, New York, NY, graduated D.M.A. in 1999
Positions held (inter alia)

1998 - 2002 - several larger compositions and public recording, especially for organ
2001 - 2002 - several professional engagements for festivals in the USA
1997 - present Assistant Musicologist, Scarsdale, NY
Music transcriptions and analysis for copyright infringement disputes
Awards (inter alia)

1998 - Improvisation and Bach Prizes, Calgary International Organ Festival and Competition, Calgary, Canada
1999 - Helen Cohn Award for Research in Medieval and Renaissance Music, Manhattan School of Music, New York, NY
Special Prize for young composers
Enrique Hernandis Martínez (25 years, Cárcer/Valencia, Spain)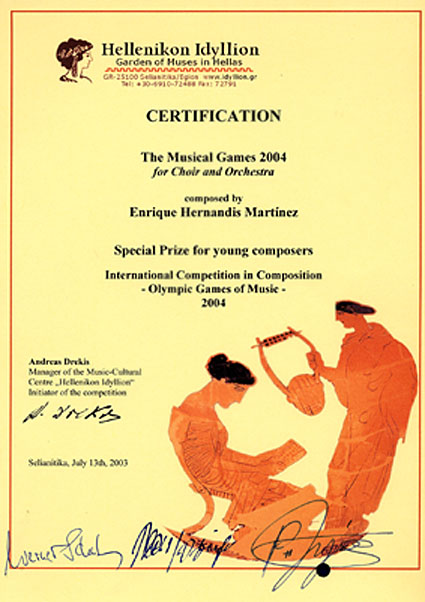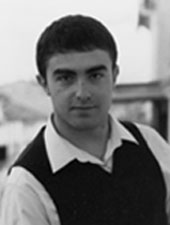 "The Musical Games 2004" for Choir und Orchestra.
Biography
born 1977 in Spain
studied music in Valencia and graduated "Profesor de Percusión, Composición e Instrumentación" (2000).
Positions Held (inter alia)

Present: Director de la Unión Artística Musical de Navajas (Castellón)
Professor de Armonía, Análisis y Fundamentos de Composición en los Conservatorios Profesionales de Chella y Amussafes (Valencia)
several recordings for Orchestra for brass band and Symphonyorchestra
several broadcasts at Spanish broadcasting stations
Awards (inter alia)

2001 - 1st Price in Concurso Nacional de Composición Musical"Ciudad de Alicante"
2002 - 1st Price in Concurso de Composición de Tolosa (Guipúzcoa)
Other compositions recommended for performance:
Gerold Amann (Schlins, Austria)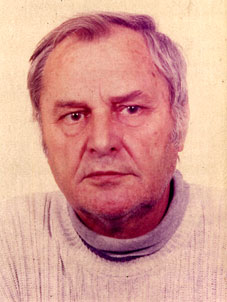 "Olympias Agona"
humanistic peace for Speaker, Choir (4 mimes) and Orchestra

(2 flutes, oboe, clarinete in B, fagot, 3 horns in F, 2 trumpets in Bb, 2 Trombones, tuba
born 1937 in Voralberg/Austria, studied (i.a.) sience of music, Professor for Middleschool and Composition
Dinos Constantinides (Athens,Greece - Baton Rouge, LA, USA)

"Hellenikon Idyllion"
for Speaker and Orchestra
studied first in Athens and later Composition und Violin in U:S:A:, Boyd Professor und Coordinator of Composition at the School of Music at Louisiana State University
Claude Lachapelle (Gatineau, Québec, Canada)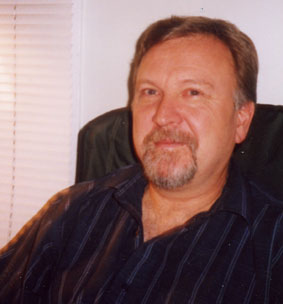 "Olympic Music"
for Speaker and Orchestra
born 1951 in Drummondville (Québec), Professor for Music
Spiros Mazis (Athens, Greece)

"Pindar´s Hymns"
for Lyric Soprano, mixed Choir and Orchestra

(2 flutes, 2 oboes, 2 clarintes in Bb, 2 horns in F, 2 trumpets in Bb,
2 Trombones, percussion, violins, violas, violoncellos, contrabass)
born 1957 at Korfu, studied (i.a.) Composition, Director of the "Classic and Contemporary Music and Center of Elektronic Music" Conservatory in Athens
Tina Ternes (Ludwigshafen, Germany)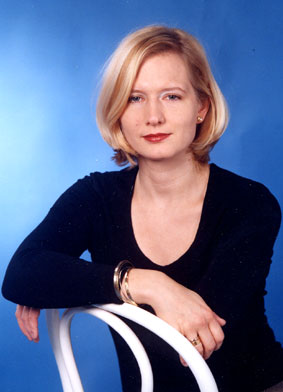 "Five Rings"
for Solo Singer, Choir and Orchestra

(2 flutes, 2 oboes, 2 clarinets, 2 bassoons, 2 trumpets, 2 french horns,
2 trombones, 1 tuba, 4 timpani, percussion, strings)
born 1969 in Kaiserslautern/Germany, studierd (i.a.) School- and Filmmusic, Collegeteacher
John White (Denver, Colorado, USA)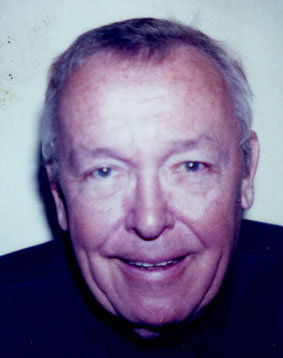 "Hymns of Pindar"
for SATB Choir and Orchestra

(2 flutes, 2nd piccolo, 2 oboes, 2 B flat clarinets, 2 bassoons, 4 french horns in F,
2 trumpets in C, 2 tenor trombones, bass trombone, tuba, timpani,
percussion (2 players), strings)
studied Cello und Composition, Ph.D., Professor for Music
Interview with Werner Schulze, July 12th 2003
Hellenikon Idyllion spoke with the jury member Werner Schulze, Professor at the University of Music and Art Vienna, about the results of the international composition competition.
HELLENIKON IDYLLION: Did you expect that so many composers from all over the world would develop such an enthusiasm for this competition?
SCHULZE: To be honest: No! The task was not that simple to solve, because there were ancient Greek texts and sports of the ancient games supposed to be converted into music. As you know ancient Greek is not spoken any longer nowadays as well as it is taught less and less. We were very happy about such a worldwide interest. However without Hellenikon Idyllion and the initiator of this competition, Andreas Drekis, it wouldn't be possible to make it that known. Indefatigable he sent electronic post to every kind of musical institution around the world and answered a multiplicity of questions. A big "Thank You" to him.
Classical music and the athletic games, how does this fit together?
For us it was important to express the ancient athletic idea with the means of the art of music. Moreover sports training and artistic activity were both an equivalent part of an extensive education in the antiquity. Sports and art were regarded as absolutely equal and important.
How did the jury judged the received compositions?
We paid attention on certain characteristics, for example whether the five ancient disciplines run, long jump, discus, javelin, wrestling became effective, whether the metrical measure of Pindar's text was converted, how the orchestra and the choir or speakers were used or how the quality of a composition is jugged in general. We did not prefer any specific style; It was important to try to go towards a new direction. We examined whether the composer -by dealing with the topic- was able to develop his own view, with the courage to find and express his own personal language. Further it was important, that people who are interested in music are able to find an access to the musical representation of the topic. The piece of work, which had a too popular style or on the other hand a too avant-garde style one was less in demand.
Could you tell more details about the participants?
We received twenty-one compositions from four continents; among them there were two female composers. We were glad to see that also younger musicians took part in the competition.
Is it known already, when and where the compositions are going to be presented for the first time?
For a first impression, an orchestra is planning to play a concert on the island Kefalonia, in Olympia, in Corinth, in Galaxithi near Delphi and at Hellenikon Idyllion in the end of July End of July. Where honored pieces will be presented. Furthermore two recommended compositions for representation will be presented for the first time this July and September in concerts, in Athens, Olympia und Corinth.
So far a successful competition?
Absolutely! Noticeable was the generally good dealing with the verse measure of the Pindar text. And it was marvelous to hold works in our hands from all over the world-from Brazil to Australia- that represents exactly the ancient Greek athletic Idea!
Here you can find more information about the announcement of the competition in German.