Program 2014
The "Hellenikon Idyllion" - Welcome to the garden of the muses in Greece
Invitation for Greek learning classes
to perform a musical drama
"ΕΡΓΟΝ ΚΑΛΟΝ Κ' ΑΓΑΘΟΝ'' 2014

Project in favor of the 2014 " for the Beautiful and the Good"
- for students learning greek and self-taught groups.
Learn classic greek and experience the culture with music and performance in the garden of the Muses and the Epicurus.
Enjoy the melody of this language and cultivate your spirit with its unique expressiveness. Enhance your positive power, stimulate your fantasy!
We invite you, your class and your teachers to come to the "Hellenikon Idyllion" right next to the seaside, located at the coast of the western Pelleponnes in Selianitika, near Egion.
Bring your excitement and your creative ideas with you to learn the language of Sokrates, Platon, Pindar and Homer. Combine inspired dialogs or poetic verses and the music from renowned composers (eg. Bach, Mozart, Beethoven) with your acting, dramatic and choreographic expression into a successful synthesis.
You can choose any classic music you want, live instrumental accompaniment is not obligatory.
We would like to promote your choice of learning greek by offering you accommodation for a reduced price that has only the purpose of covering our costs. By visiting our site, you give us the power and means to constantly stay active and creative.

If you want to, we can plan and organize your concerts in highschools and suitable halls.

Please tell us when and with how many attendees you could come here and we will contact you immediatly!

You don't even have to tell us your ideas about the implementation of "Kalon k' Agathon" concert right now, just send an E-Mail or a demo audio-disk of the play (minimum of 30 mins) until 31st of March 2014. Extension of the submission date can be discussed upon request.
We also offer a reduced price, if you decide to implement smaller or bigger parts of our libretto "Helike Athanatos" (the history of a sunk ancient Greek city), that we can send to you at your request. We can even offer you two weeks of accommodation for free, in case you decide to implement the whole Libretto. More information can be found at the following Link: http://www.idyllion.eu/en/orchester_choere_musiker.html

We look forward to hearing from you and would love to give you more information.

Your Hellenikon Idyllion.
www.idyllion.eu

Andreas Drekis,
tel. 00302103461034
Concerts and Opera project - Invitation
for Orchestras and Choirs
Dear friends, our centre for music and culture "Hellenikon Idyllion" at the northcoast of the Peloponnese offers choirs and orchestras an ideal forum to prepare concerts or just to rehearse intensively. In the flowering garden creative work can be combined with recreation and international contacts.
Composition Competition 2009/2010
Opera "HELIKE ATHANATOS""Helike – Immortal"- Triumph of Archaeology -
INTERNATIONAL COMPOSITION COMPETITION
"HELIKE ATHANATOS",
"Helike – Immortal"
The story is based on an idea of Andreas Drekis, Text and literatur - Libretto - in ancient Greek by Franz Knappik,

Special offer: Orchestras and choirs, who are willing to perform one of the prize-awarded operas, have the opportunity to stay at "Hellenikon Idyllion" free of charges for 21 days, for final rehearsels and a performance of the opera in Greece. More information about the opera here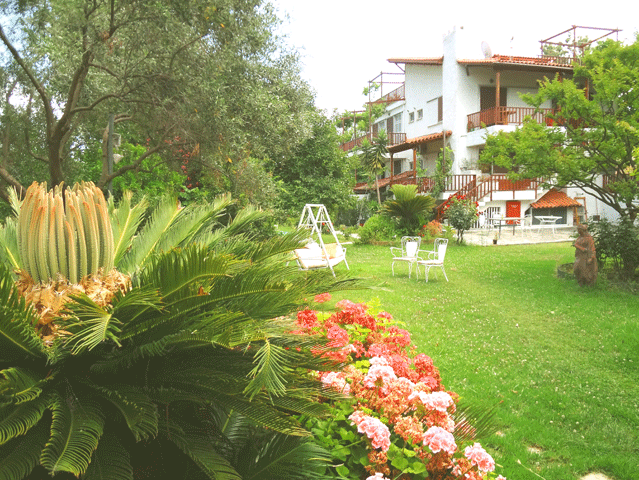 Music holidays in Greece for adolescents
April 15 - 26, 2014


Course of chamber music with Ruth Tüschner (Violin), Matyas Bartha (Violin), Ioanna Seira (Cello) and Imola Bartha (Piano)
We will be playing classical chamber music from Tschaikowsky, Beethoven, Schubert with different instrumentations, for example strings, wind section and piano.
More information and registration: Ruth Tüschner, Goetheanumstr. 9, CH-4143 Dornach, ruth.tuescher@web.de, 0041617021359
Music by the sea
Hellenikon Idyllion is a paradisiac place by the sea with a big garden, which contains several houses. There are a couple of half open rehearsal rooms with grand pianos.
The proprietary of Hellenikon Idyllion is a music-lover and had the chance to receive many chamber orchestras, ensembles and soloists from German-speaking countries. He is a committed host who wil organise several concerts in different places for us. During these concerts we will also perform music from Greek composers, so that we will get to learn about the country and the people in a fascinating way.
Matyas Bartha will be with us again, he is a member in a big orchestra and thus can give much expert advice.  The pianist Imola Bartha will lead the chamber music groups and the violinist Ruth Tüscher will be working with us as well. Every time it is amazing to see how much the group and the music evolves.
Children and adolescents, who play a string instrument for 5-6 years and who are between 12 and 18 years old, can register. The ensembles will be placed together according to level, age and experience in chamber music.
We play string quartets, piano trios, violin duos and cello ensembles. In the chamber orchestra we all play together, advanced students can even try themselves out and play a solo. Klezmer music and Greek folklore music are planned as well.
You should possess good technical basics and you should be willing to prepare for the course with the notes that you will receive in time before you come to Greece.


10 m next to our garden !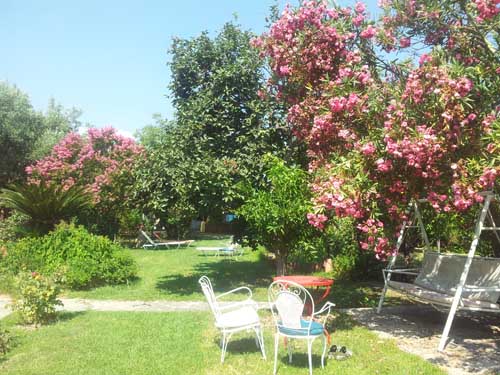 In our garden

You will be practicing 3-5 hours every day and in the breaks you can go for a swim (the sea will still be cool, but it will be warm enough for swimming), relax and enjoy the sun in the garden or even practice. We will eat our meals together in a great tavern clos to our house. Even if you do not know anybody, you are welcome in our "music family" and you will feel at home. In order to ensure the quality and this family atmosphere we do not want to take more than 18 participants.
Please apply early, so that we can get cheap flights for you. The music holiday will cost approximately 990€ including flight, transfer, accommodation and meals as well as daily instructions. We are looking for sponsors, so that the participation in this trip will be cheaper for everybody.
Ruth Tüscher, Violin:
born and raised in Munich, studies in Munich and Freiburg i.Br. under Rainer Kussmaul. Several master classes, for example under Denes Zsigmondy and in the Cleveland-Quartett. 1990/91 stay abroad – concertmaster at the Opera Mozart in Prag. Married, four children, violin teacher at the Free Music School Basel since 2001

Matyas Bartha, Violin:
born 1972 in Baraolt (Romania), studies in Klausenburg under Prof. I. Ruha and Prof. I. Laszlo-Herbert (chamber music). Master classes at the Schubert-Quartet in Vienna, Amadeus-Quartet, Bartok-Quartet and under G. Kurtag. Concerts in many cities throughout Europe and South America, for example with the Zurich string quartet, with the Euler Quartet Basel and the Musici Volanti Bern. Baroque music with the Swiss Baroque Soloists and the Ensemble Baroque de Limoges. Member of the Symphony Orchestra Basel since 2001.

Ioanna Seira, cello: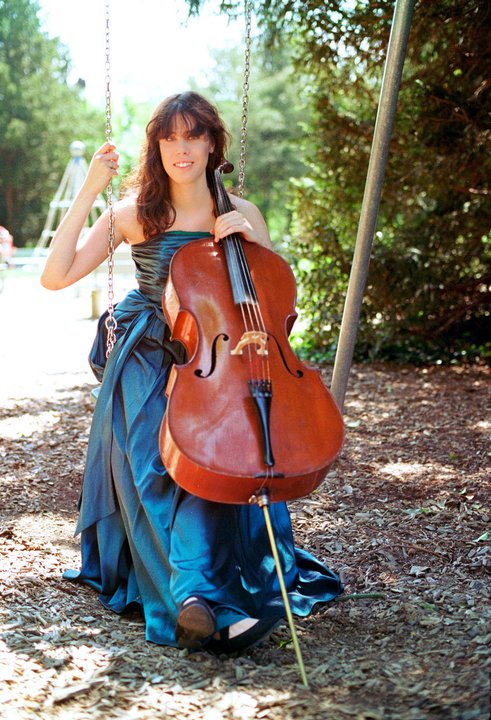 Born in 1991 in Athens, she won several awards in young years, for example the Eurovisions Contest for young soloists in Athens when she was 14. Aged 15 she received the diploma of the Attikon Conservatory Athens with gold medal with honourable mention. With 16 she became scholar at the Onassis Foundation and studied under Prof. Kanngiesser in Cologne. Later on she won a contest which was organized by Princess Irene of Greece and with that another scholarship. After she received her Bachelor degree at the "College of Arts" Zurich under Prof. Wallfisch, she continued taking classes under Thomas Gossenbacher for her Master degree. Ioanna Seira attended many master classes, for example in chamber music with members of the Carmina Quartet under Wen Sin Yangund. She has a big Repertoire, as a soloist as well as in chamber music. She performed as a soloist accompanied by the National Orchestra Athens at the Lalo Concert in Athens in 2009, in 2010 with the Tripel Concert and in 2011 she performed the "Swan" by Saint-Saens live at the Christmas concert in the Greek national radio.

Imola Bartha, piano:
born in Tirgu Mures (Romania). Studies of piano, chamber music and correpetition at the Music Academy Klausenburg/Romania under Cecilia Sbarcea and Ferdinand Weiss. Soloist diploma. Accompanist for violin and viola classes at the Music Academy Klausenburg. Accompanist for the contrabass class at the Music College Basel and also accompanist at the Music school Basel. Imola Bartha won several awards in chamber music and soloist competitions. She performs at various concerts as a soloist with orchestra as well as appreciated chamber music partner in different line-up.
We will be accompanied by 1-2 adults who will be responsible for free-time activities and chaperonage. Trips and concerts show us the beauties of the countries.

More information and registration: Ruth Tüscher, Goetheanumstr.9 CH-4143,
Tel: 0041/61/70203
Information from May 2013: Maximum number of participants is reached, there are no further registrations possible, however, there are still accommodations  available for non-participants



In our garden

May 18 - 27, May
The Rudolf Steiner school Oldenburg will visit us for the third time with 27 students
May 24 - 31, 2014
The 17 musicians of the young college students institute of the musical university Detmold under the conduct of Prof Piotr Oczkowski will be our guest
more information coming soon
For more Photos and Information, check out the german version of our 2014 programm.
June 7 - 12, 2014
The youth symphony orchestra from Ansbach under the conduct of Stefan Ubl
will be our guest for the third time.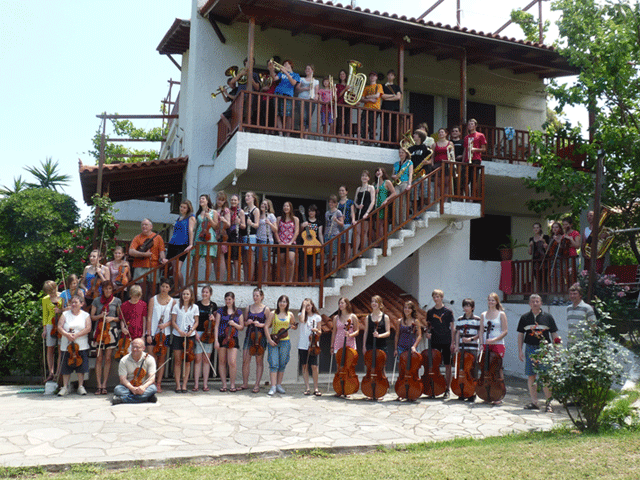 The Orchestra 2008 at Hellenikon Idyllion



June 14 - 21

The "FSB Youth Choir" visiting us for the first time: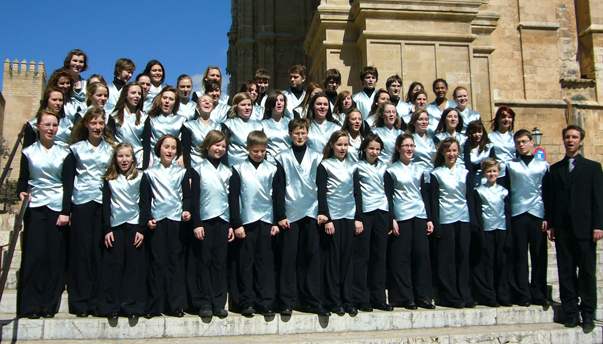 The "FSB youth Choir" from bavaria. Conductor Jochen Kästner. The choir consits
of 55 young singers and 6 carerers.
Repertoire and concert locations coming soon!
July 20 – 3 August, 2014
22 Years, Anniversary Celebration !

This is a conveyor project from Hellenikon Idyllion.
Speak and philosophize in Ancient Greek
in the Garden of the Muses


Travel to Greece and improve and deepen your knowledge of Attic Greek. Which friend of Hellas wouldn't be tempted? In the entire world there is only one opportunity to do so.
Students from many countries and backgrounds assemble in a large, shady garden on the rocky shores of the Gulf of Corinth and discover to their surprise that they can converse, read and discuss stimulating ancient texts all in the language of ancient Greece.
The seminar, a project of the Hellenikon Idyllion, has been offered by the center's founder Andreas Drekis for twenty years as a special opportunity for students of ancient Greek. His hotel also hosts musicians and artists, whose concerts and performances enliven many an evening. A short trip to see objects of interest and a production in an ancient theatre is also possible.
The Hellenikon Idyllion is located on the north coast of the Peloponnese near Aigion, a Greek vacation destination thanks to its particularly alluring and relaxing character. Accommodation is available in rooms with 3-4 beds for student participants.Price inkl. seminar Euros 250.-for students, Euros.-350 for teachers and Euros 450.- for other Persons. Single and double-bed rooms are also available to adults upon request.
Please register (mandatory and binding) with Prof. Stefano Pagliaroli hypnomachos@libero.it

Speak the ancient Greek language in theaterdialouges in the garden of the muses and the near-by ancient theatre!

Theater of Egeira 35 km from Hellenikon Idyllion

August 4 -11, 2014

The Berlin Accordion Orchestra
our guests for the second time
The student orchestra "VIVAccordia" and the ensemble "conAmici" under the conduct of Vivien Müller will stay here and perform. The program will be a mix of popular pop and rock songs, classical music and a choice of traditional Greek songs.

The Berlin Accodion Orchestra at the 11. World Music Festival in Innsbruck.

OKTOBER 2 - 14, 2014
"Die Musikmacher" 20 young pianists and strings from Essen, Germany

More Information coming soon