Excursions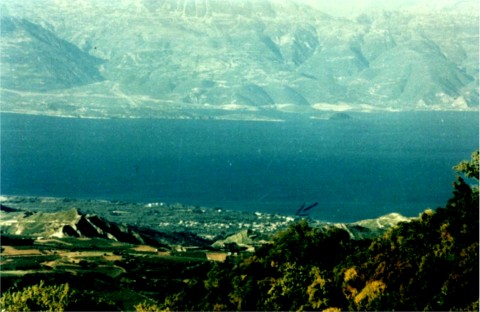 Selianitika: see arrow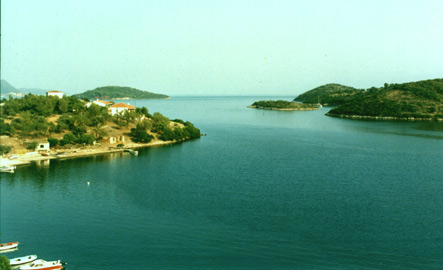 Walking two little islands Trisonia in the opposite of Hellenikon Idyllion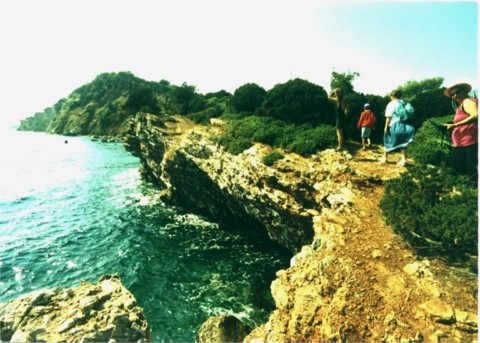 The islands Trisonia in the opposite of Selianitika
Day-Trips to ancient Sites

Zeus -Temple in Olympia, a drawing reconstruction
West: ancient Theatre in Ilis, Olympia, Temple in Basai
North: Delphi and the ancient grotto Kyrikeion Andron, where the Greek gods were worshiped and the Byzantine convent Ossios Lukas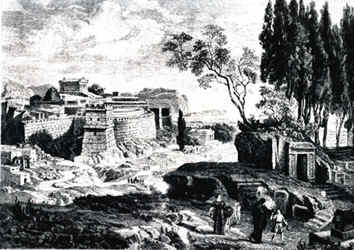 Mykene, reconstruction by Joseph Hoffmann
East:
- Old Korinth, Mykene, Tyrins, Epidauros two ancient theatres with summer-festivals
- ancient theatres of : Aigeira, Sikyon, Argos, Epidaurus (great and small), ancient Korinth, Heraion
- Temple, Isthmia, Tyrins, Mykene Megara , Eleufsis, Athen -Akropolis and National Museum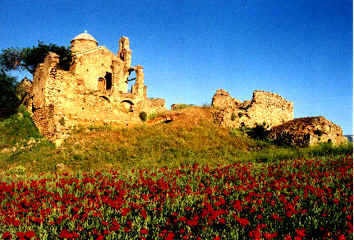 Walking to an old monastery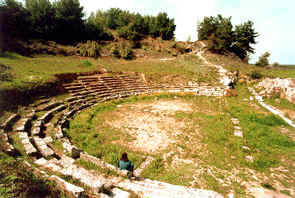 Sikyon-Theatre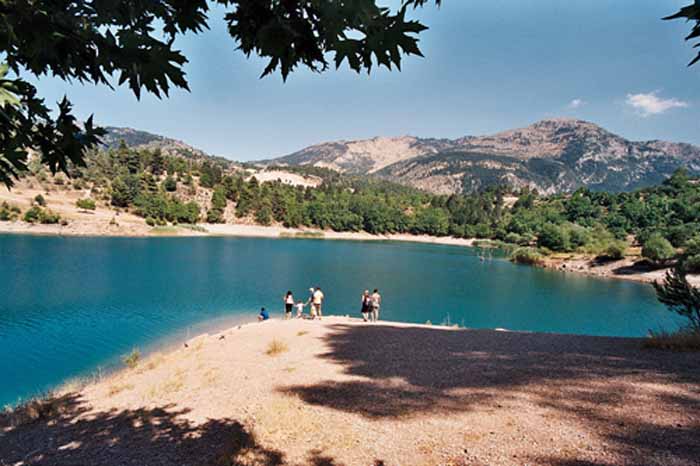 Heraion temple near Corinth
South:
- Artemis- Temple near to Kalavrita. Ancient theatre of Kleitoreia . Sometimes you can connect a trip to an ancient site with a hiking-tour.
- ancient site Feneos and other sites in combination, like Leontion

Ski resort Kalavrita/Chelmos
Day- or Halfday-Hikes
West:
- old wine cellar in Achaia- Clauss & Mykenic graves;
- walk in a biotop in Kato-Achaia
North:
- walk on the Trisonia island in the gulf of Korinth, motor-,sailingboat-trips
East:
- Ancient Egeira theatre
- small temple of Gaion-Xoanon with its cupola
- countryside of the absorbed ancient city of Helike (right now you can see excavations) For more photos and informations about Helike click here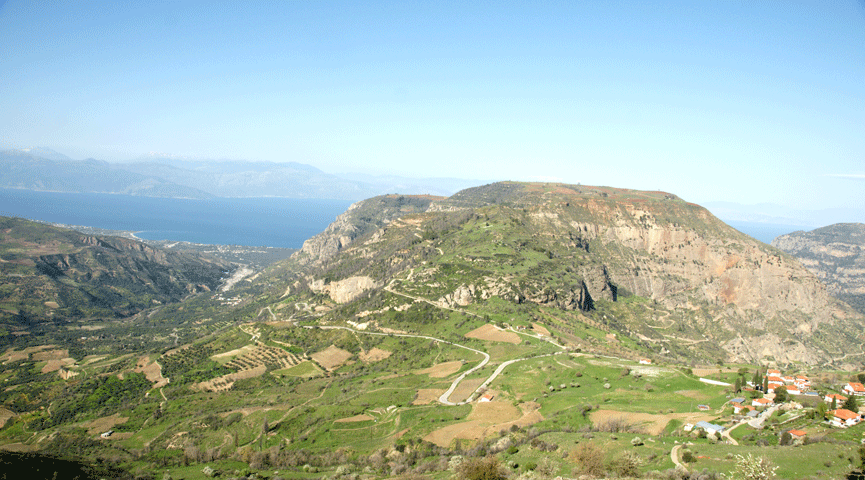 - along the roots of the ancient city Keryneia on a tableland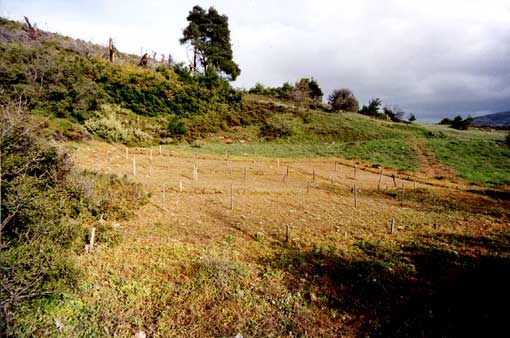 Ancient Keryneia - theatre not yet excavated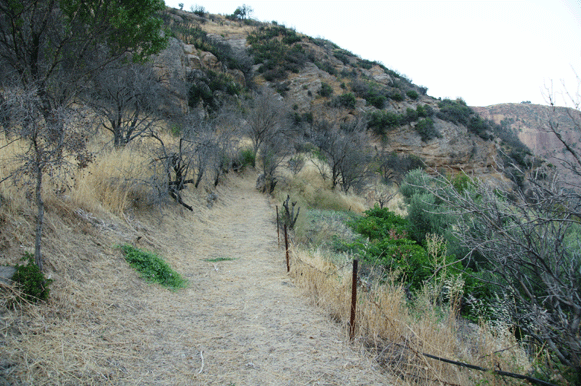 The 2500year old track to the ancient Kerzneia and its theatre....An inimitable and wonderfull hike !!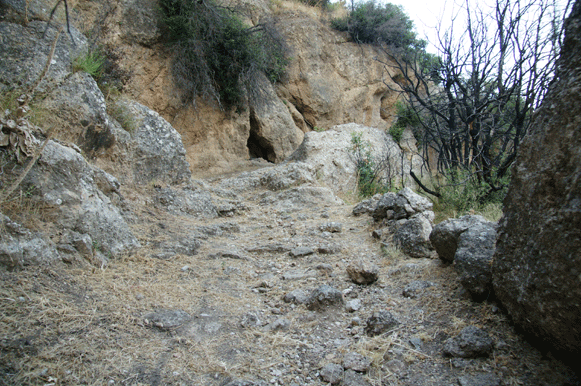 - along the roots of the old city Boura in the hills
- to the lake of Stymphalia and the ancient temple of Demeter
South: unusual adventures in nature in the province of Achaia

- to the Taxiarchon monastery on the rocks

A natural wonder on the way to the monastery Taxiarxon
- The way to to Plataniotissa, a church in the middle of a platane-tree (!)
- to the rediscovered ancient city Rypes where a temple is digged out
- wonderful tour by rack- railway through a breathtaking gorge convents Mega Spileon and Agia Lavra monasterys
- Kastria grotto with small lakes, valley with pisci culture and an Artemis-temple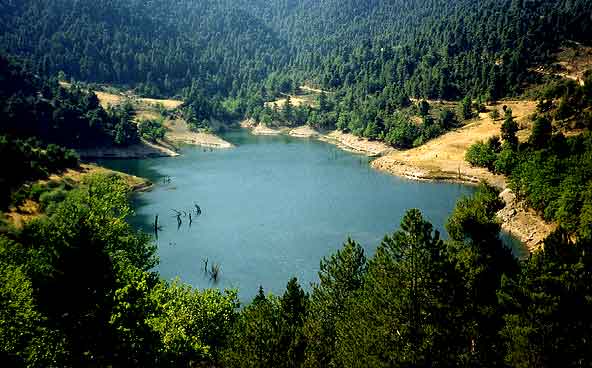 - lake Tsivlos and river Krathis (where you can swim), Peristera -village and from there to the mount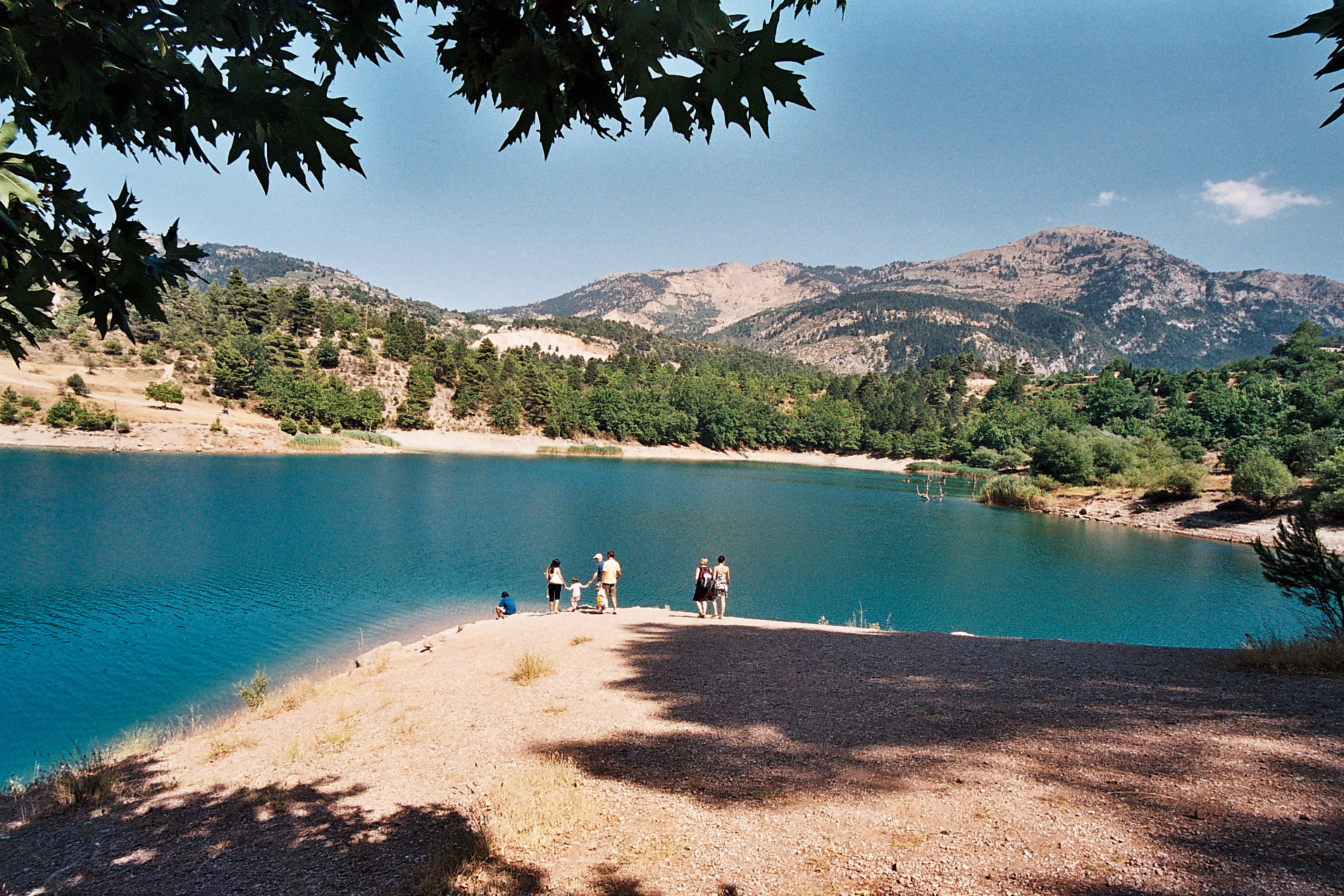 Lake Tsivlos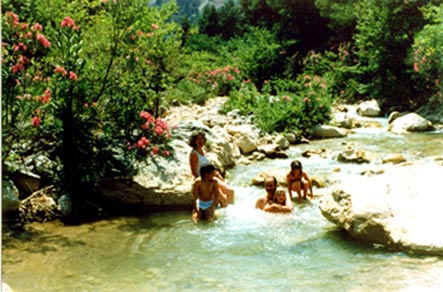 Swimming in a mountain-lake and in the river

Helmos where is the mythological fountain of Styx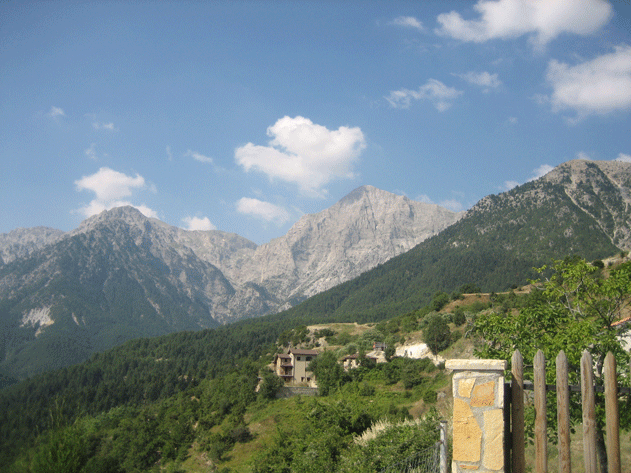 Starting point of the hike to the fountain of Styx.
Pictures of the hike to the fountain of Styx (2h):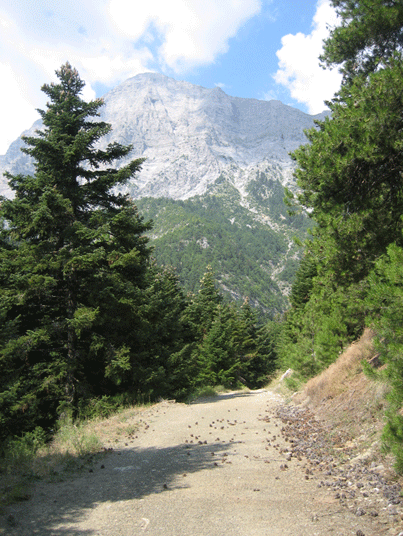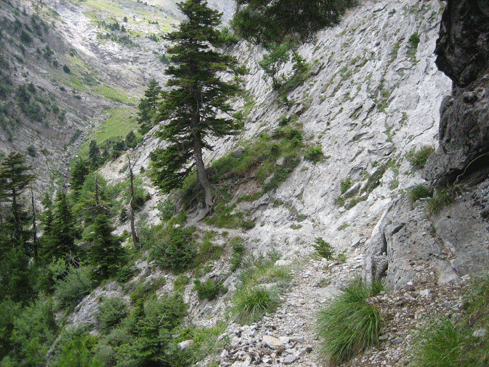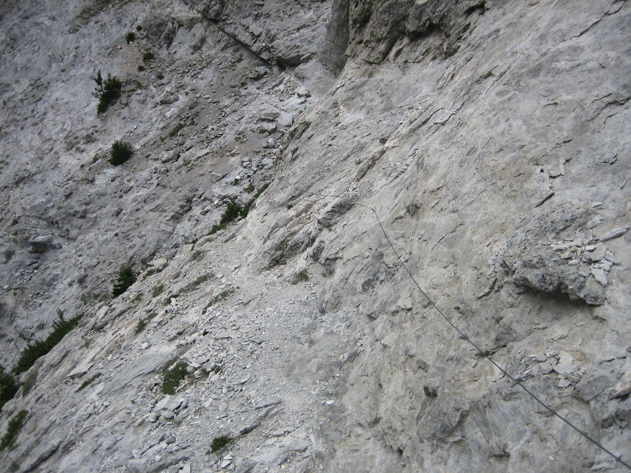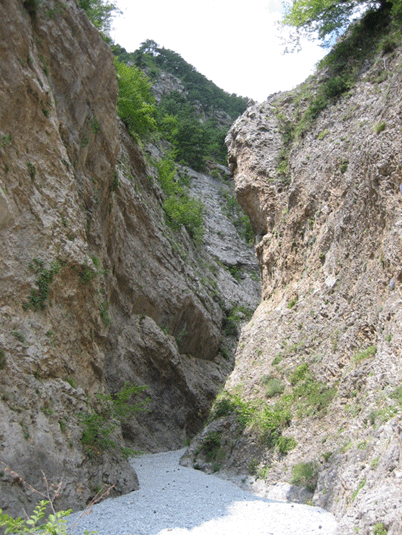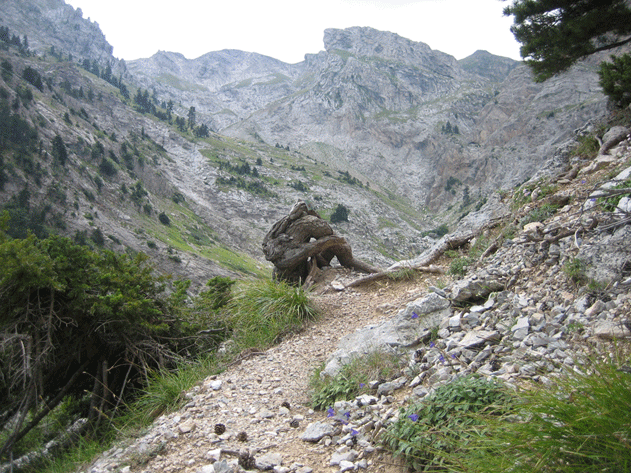 In the Styx
Day - or Halfday - excursions
West:
- Patras (museum, ancient theatre, castle, St.Andrew-church, harbour...)
- visite of festivals and other performances (big carneval in winter)
- island Zakynthos
North and Northwest:
- pittoresque small town Galaxidi (archeological museum, Mykenic graveyard, old church, harbour,...), Nafpaktos (harbour, castle, wall...)
-ancient theatre of Oiniades with summer-festival of greek tragedies
East and Southeast:
- Egion (archeological museum, church...)
- nice city Nafplion with a lot of wonderful buildings like museum, harbour, Akropolis, Bourzi island,
Two-days trips to ancient sights and other famous places
West and Southwest:
-ancient sights Ithomi and Messini, island Kefalonia and Ithaka
-to Kalamata, ancient palais of Nestor,
South/East
-ancient Argos -theatre, Sparta (museum and ancient theatre)
-byzantinic town Mystra and ancient theatre of Megalopolis -very close the mediaeval city Monemvasia and Diros grotto by boat- island Hydra
North:
-Meteora-monasteries on the rocks
A three days trip around the Peloponnes will lead you to all important places. We will help you to organize the transfer and the accomodations for groups and individualists as well.