Hellenikon Idyllion for choirs, orchestras
and creative groups
Invitation for Greek learning classes to perform a musical drama
Project in favor of "Hellenikon Idyllion"
Learn classic greek and experience the culture with music and performance in the Garden of the Muses and the Epicurus.
Enjoy the melody of this language and cultivate your spirit with its unique expressiveness. Enhance your positive power, stimulate your fantasy!
We invite you to come to the "Hellenikon Idyllion" right next to the seaside, located at the coast of the western Peleponnes in Selianitika, near Egion.
Bring your excitement and your creative ideas with you to learn the language of Sokrates, Platon, Pindar and Homer. Combine inspired dialogs or poetic verses and the music from renowned composers (eg. Bach, Mozart, Beethoven) with your acting, dramatic and choreographic expression into a successful synthesis.
You can choose any classic music you want.
We would like to promote your choice of learning Antique Greek by offering you accommodation for a reduced price that has only the purpose of covering our costs.

If you want to, we can plan and organize your concerts in highschools and suitable halls.

Please tell us when and with how many attendees you could come here and we will contact you immediatly!


We look forward to hearing from you and would love to give you more information.

Hellenikon Idyllion
www.idyllion.eu

Andreas Drekis,
tel. 00302103461034
Concerts and Opera project - Invitation for Orchestras and Choirs
Dear friends, our centre for music and culture "Hellenikon Idyllion" at the northwestcoast of the Peloponnese offers choirs and orchestras an ideal forum to prepare concerts or just to rehearse intensively. In the flowering garden creative work can be combined with recreation and international contacts.
Composition Competition 2009/2010
Opera "HELIKE ATHANATOS""Helike – Immortal"- Triumph of Archaeology -
INTERNATIONAL COMPOSITION COMPETITION
"HELIKE ATHANATOS",
"Helike – Immortal"
The story is based on an idea of Andreas Drekis, Text and literatur - Libretto - in Ancient Greek by Franz Knappik.

Special offer: Orchestras and choirs, who are willing to perform one of the prize-awarded operas, have the opportunity to stay at "Hellenikon Idyllion" free of charges for 14 days, for final rehearsels and a performance of the opera in Greece. More information about the opera here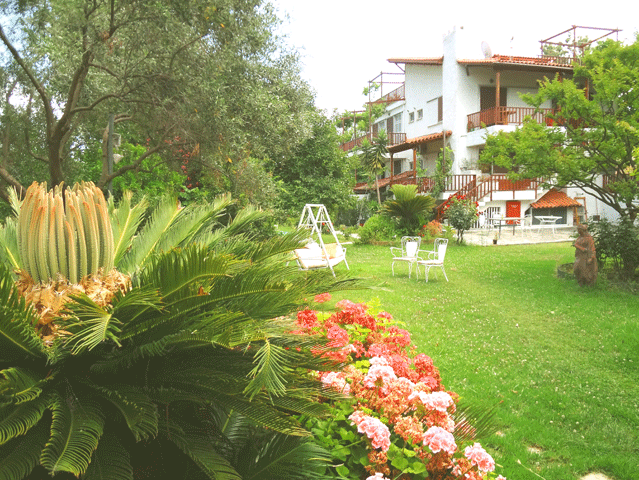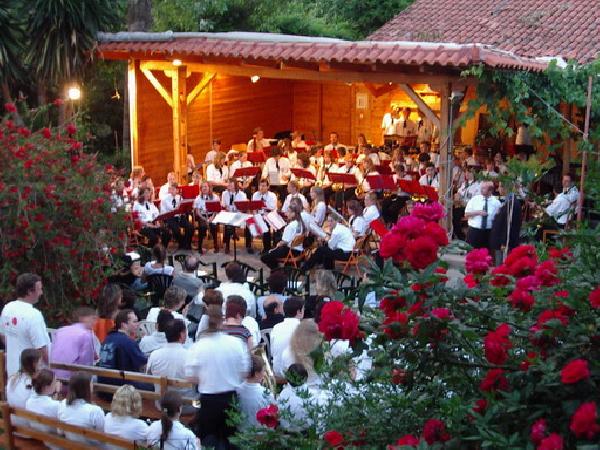 Some of the guests at "Hellenikon Idyllion":
August 2004 Orpheus and Eurydice from Glueck and the Hymns of Pindar from Spyros Mazis with the "Opera Studio Meran ", Italy, 100 Musicians
The "Sinfonic Wind Orchestra" of the youth's music school of Singen, Germany
July 2003: Youth Symphony orchestra of Strasbourg
Some of our guests in 2002: Neckarsulm Youth Symphony Orchestra, Germany, Youth Wind Orchestra of Frankfurt, school orchestra of the Rudolf Steiner school Basel, Wood and Metal Connection Symphony Orchestra, Switzerland
Some of our guests in 2001: The Youth Symphony Orchestra Zürich, The Youth Chamber Orchestra Schleswig Holstein and the schoolchoir of Gera, Germany -the last two even for the 3rd time.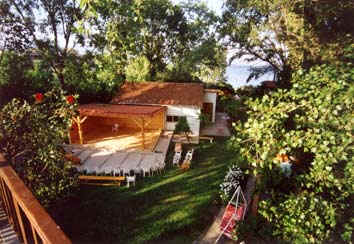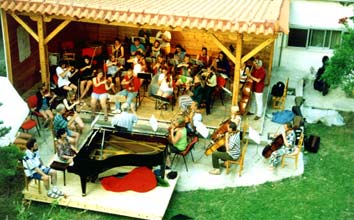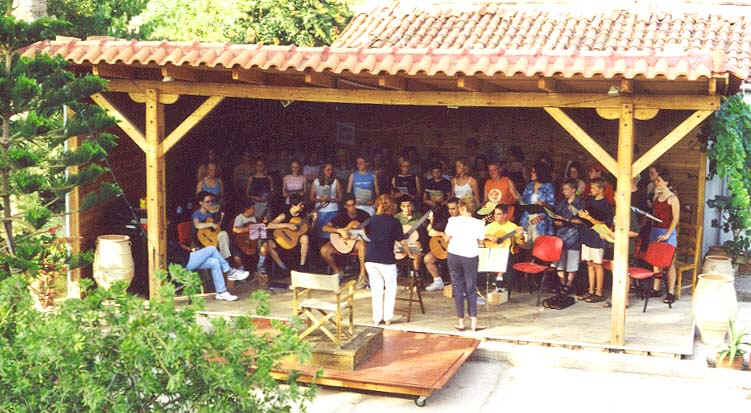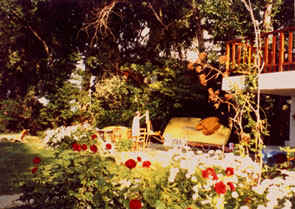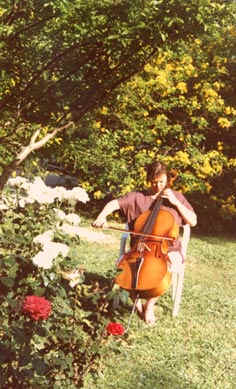 Painting and playing in the idyllic garden and the famous british celloplayer Stefan Popov with a pupil

Ancient Theater of Egeira in the near vicinity
The genuine greek village Selianitika with its small taverns and traditional coffeeshops is placed at the coast between Patras and Korinth. The surrounding is full of flowers, fig-, olive-, orange- and lemontrees, palms and has lots of pitoresque cottages and villages.
Accommodation
The bungalows and flats with two or more beds are provided with bathroom and kitchen. "Hellenikon Idyllion" offers space for 70 people more people until 120 persons in the hotel nearby,  Breakfast, lunch and dinner can either be prepared individually or be taken in the tavern nearby.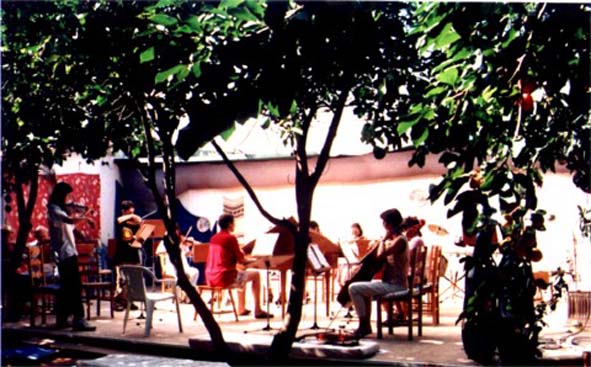 Chamber music and classic ballet in the garden
Travel
We recommend to travel to Athens by plane. We help you to organize your transport from the airport to Egion/Selianitika (about 2 hrs.). If you go by car or bus you take the ferry boat from Ancona or Bari/Italy to Patras/Greece.
Facilities for Rehearsing
In the wide and shadowy garden there is a Schimmel Grand piano in a glaspavilion. Furthermore we can offer two big rooms with pianos and many shadowy places in the garden.
Due to a nice breeze from the sea it will never be too hot. There are two stages for rehearsals, concerts, dance, theatre and performances of any kind. Concerts in the surrounding countryside for instance, in an antique theater, can be organized.
Surroundings
The famous antique places like Olympia, Delphi, Mykene and Epidauros can easily be visited from Selianitika. Mythological landscape and old greek monuments can be enjoyed. There is also the possibility to relax in the garden or at the beach or to go for a swim in the sea which is just in front of "Hellenikon Idyllion.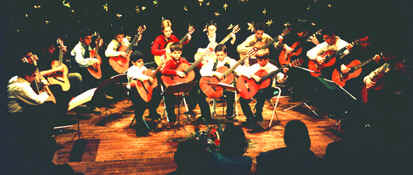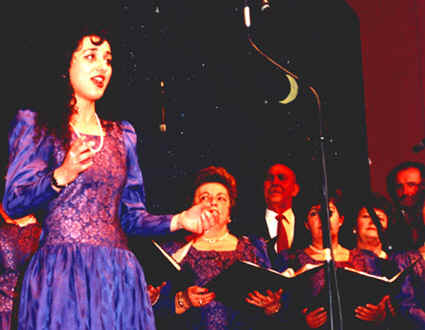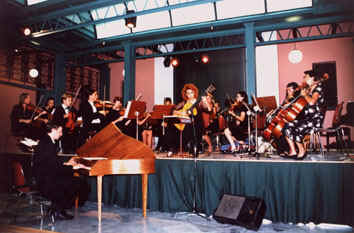 Playing together with Greek musicians: The young Guitar Orchestra and Maria Petemerithou, soprano with the choire of Egion and Maria Kavouni, playing together with guests of Hellenikon Idylion in the beautiful concerthall of the archaeological museum in Egion