Individuals and families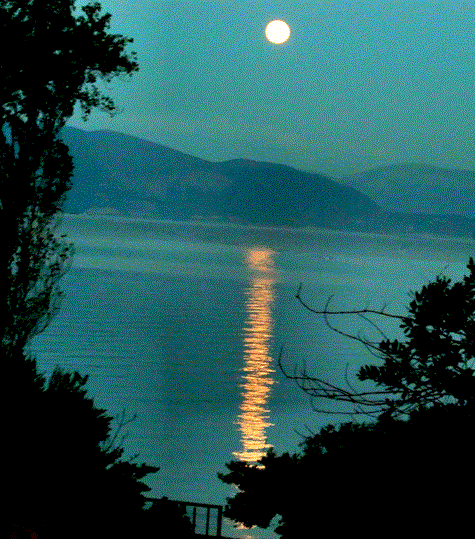 The moon bevor the garden of Hellenikon Idyllion
Hellenikon Idyllion in Selianitika near Egion at the northwest coast of Peloponnes is an ideal place to enjoy holidays for creativ families and individual travellers who love nature and are interested in culture, because of the central position in the heart of the antique Greece. It is easy to reach by ferryboat from Italy, one hour and a half from Patras port, 2 hours from Athen airport or 1 hour from Araxos airport. Here you have the opportunity to go hiking (we worked out many routes), make trips to the mountains or visit archeological sites (for all this you don´t need a car). You can use our offer for courses in arts and music as well.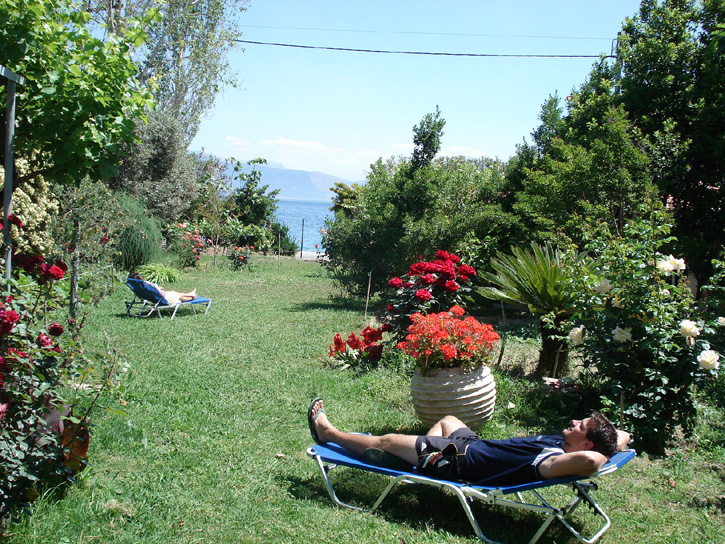 The Garden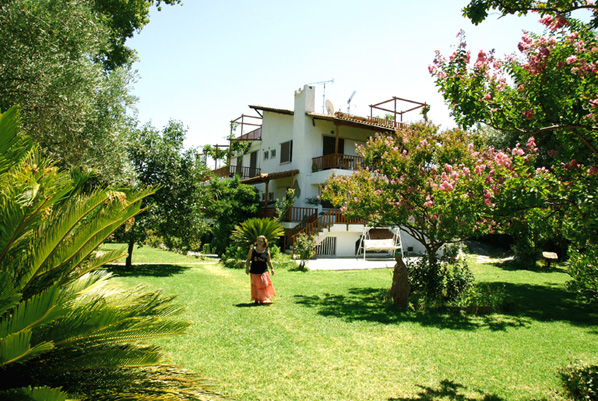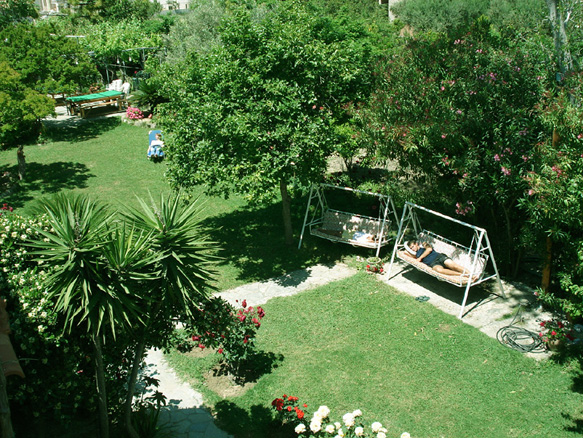 The Musician Pavillon in the Garden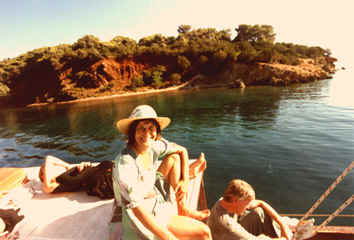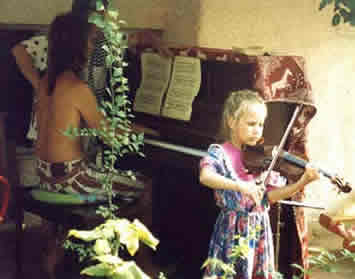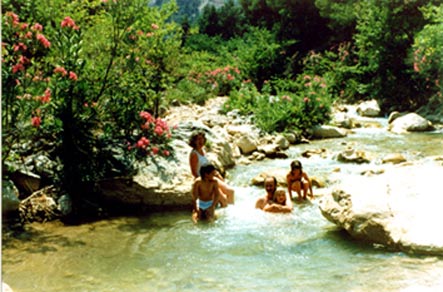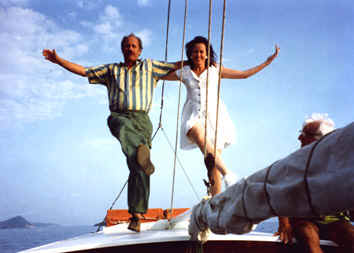 From left to right: a party in the garden; on the Island of Trisonia in front of Selianitika; seven year old Sophie Moser, 1. winner of a youth German competition; excursion near Selianitika; Zorbas dance on the boat.
Our beautiful garden with many fruit-trees and mediterranean plants, such as oranges, lemons, grapefruits, figs, kakis and olives, ten different  sorts of grapes, is open for everyone. You can relax and dream in our hollywoodswings , for sportive people we set up table-tennis-tops. 
As we do have Greek families in the Hellenikon Idyllion, we respect their traditional sleeping time from 2.30-5.30 p.m. and ask you not to make noise at that time of the day.
In the village there are opportunities for watersports and bicycles and motorcycles can be rented. The neighboured restaurant offers free entrance to the swimmingpool for our guests. In our village there are taverns with Greek music and discos as well as an anglophone open-air cinema. The sea promenade with its shady trees invites for a walk together with Greeks without mass tourism. Every day there is another view to the opposite side of the Golfe of Korinth. The hilly landscape in the southern surrounding of Selianitika is good for hiking as well as for excursions to pittoresque mountain villages and to breathtaking gorges, to bycantic monasteries and archaeological sites.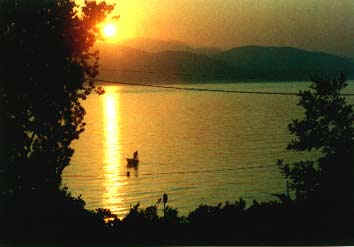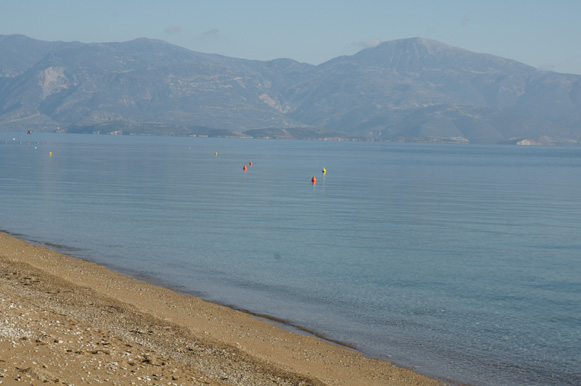 The beach (sand/gravel) seduces to swim and bath in the sea. You have many opportunities to enjoy the evenings in our garden. For example cooking greek specialities in the stone oven, gathering around the fireplace to make music, discussions...., listening to our concerts or dancing acts
In case of families having children who are studying the Classical Greek language and would like to take part in the course in August: "Let us speek Classical Greek and philosophize together" (for further information see program 2007), we offer 10 % reduction for the family. If the children (pupils/ students) come by themselves, we offer free accomodation and they only have to pay for the course (2 weeks: 150.- Euro).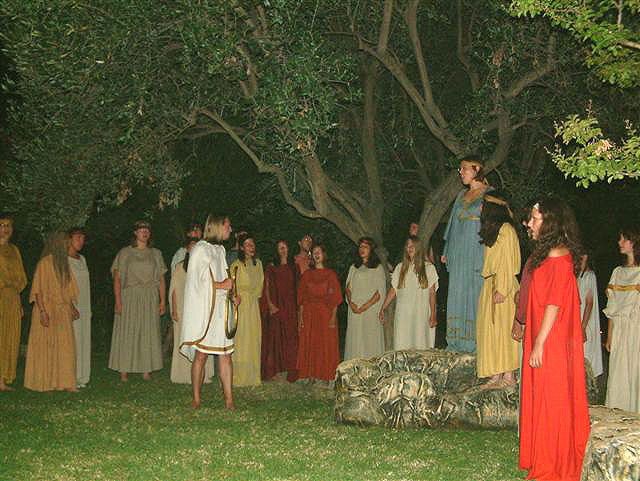 The opera Orfeus and Euridice in Garden of Hellenikon Idyllion with 90 musicians from Merano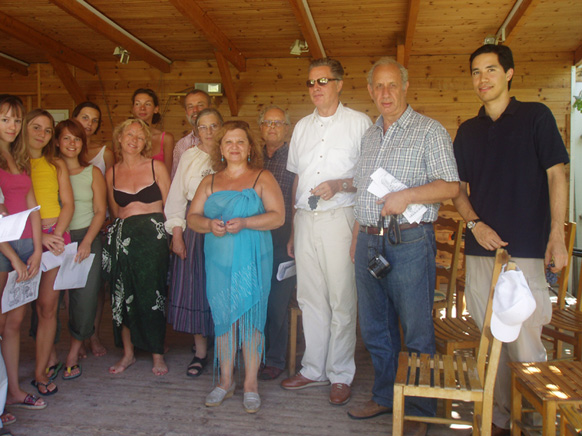 The embassor of Austria and Prof. Werner Schulze before the performance of his work "Anchibasi"
What may families expect, who are spending their holidays at the same time as a choir or an orchestra? First they are invited to join the excursions to the antique places, they can listen to the rehearsals and concerts, perhaps children will be inspirated to learn an instrument. Sometimes there will be opportunities to play chambermusic together with the musicians. You can celebrate festivals or dancings and get into contact with interesting people. Besides there are 2 open-air cinemas, a discotheque in the village, possibilities for surfing, water-skiing or bicycling, which offer additional pleasures. Our neighboured restaurant offers a swimming pool .
Typical greek specialities cooked in the the stone oven. If you don't want to cook yourself, there are many taverns with a delicious and varying menu.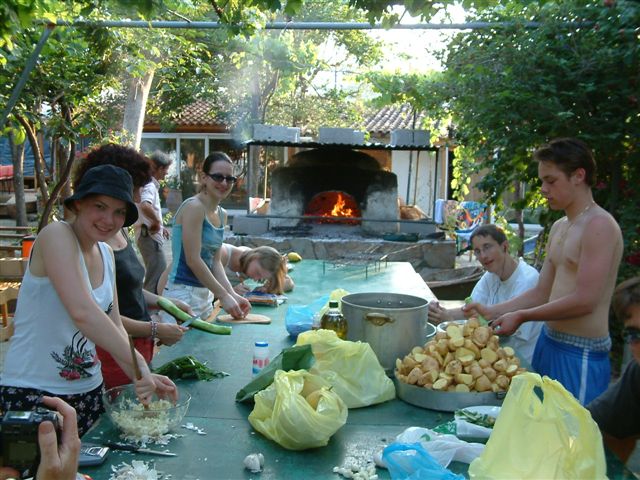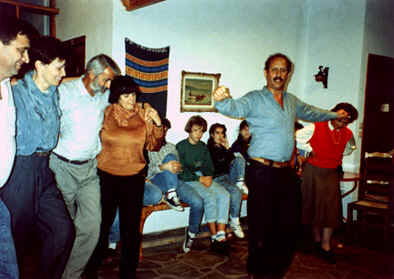 Dancing Sirtaki together with Andreas Drekis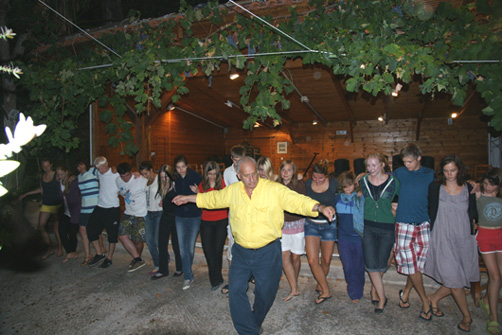 Dancing Sirtaki together with Andreas Drekis 2010
Day-excusions and wandering to the Styx-spring in mountain Helmos 70 km from Selianitika
Possibilities and concessions
To stay in Hellenikon Idyllion with or without being a course participant and without accomodation in Hellenikon Idyllion, is possible for children and families in a limited number, who are staying in holiday apartments in the neighbourhood, and costs up from 50 Euro per week/per person.
For that our management is bringing all children together, so they can use the huge garden and the garden equipment for having fun together as well as playing table tennis and using the training and playing area for children.Also the visit of all original Greek Music- and Dancing Events as well as the visit of all concerts in the garden is included.
Hellenikon Idyllion is also very attractive in wintertime!