Program preview 2013
Concert with piano
Piotr Oczkowski plays Chopin
October 15th 2013
In the Center of Culture Aigio
Begin: 19.30
Admission free
Program
Frédéric Chopin: Die späten Klavierwerke
Polonaise-Fantaisie op. 61
Nocturne in E-Dur op. 62, Nr. 2
Drei Mazurken op. 59
Vierte Ballade in f-Moll op. 52

Break
Barcarole op. 60
Dritte Sonate in h-Moll op. 58
Allegro maestoso
Scherzo. Molto vivace
Largo
Finale. Presto, ma non tanto

Piotr Oczkowski (Klavier)


Impressions of the concert in the cultural center of Aigio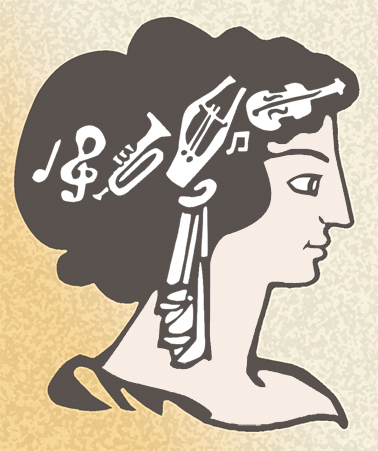 October 2013
From September the 24th until October the 8th the musical family Tüscher will be our guests. In the beginning of October the young violin player Johanna Tüscher will perform two exclusive concerts with piano accompaniment by Marios Kazas. She will practice in our garden and the concerts will be held Aigio.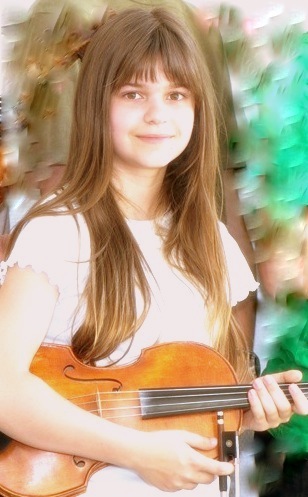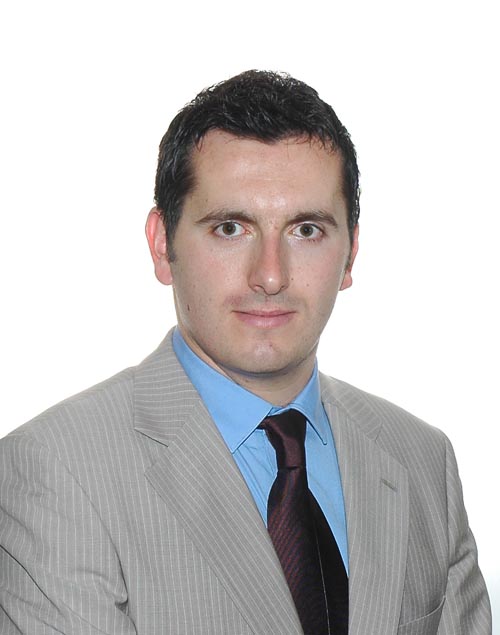 The program:
Giuseppe Tartini Devils-trill sonata Cadence by Fritz Kreisler
Ludwig van Beethoven Spring sonata op.24, 1st Allegro, 2nd Adagio molto espressivo, 3rd Scherzo, Allegro molto, 4th Rondo, Allegro ma non troppo
Johannes Brahms Scherzo c-moll
Pablo de Sarasate Gypsy Airs
Following concerts will be held:
on October 2nd there will be a concert at 10:30am for students and at 7pm there will be another concert for the public. Both concerts will be held in the cultural center of Aigio and are with free entrance!


Johanna Tüscher
Was born 1999 in Dornach/CH as one of four siblings. Her special musical gift was recognized and supported. Already at the age of four Johanna played fiddle, soon the piano came in addition. She was taught her first lessons by her mother and by Christina Koch.
Since 2009 Johanna is student at Emilie Haudenschild's Musikakademie Basel, since 2011 in Haudenschild's remedial class for very talented students. Despite her young age Johanna already possesses a wide repertoire which contains big violin concerts like the "Symphony espagnole" by Lalo and the e-moll concert of Mendelssohn, virtuosic violin literature like the "Gypsy Airs" of Sarasate and the "Tzigane" by Ravel, but also chamber music literature by Mozart, Beethoven and Brahms. She took part in many chamber music classes with great dedication and success. Thereby she plays fiddle and viola in turns. During the "Kammermusikwoche Ermatingen" and the "music on the isles" in Scotland Johanna was concertmaster and also performed soloistic with orchestra. Johanna Tüscher is multiple awardee of the Swiss music competition – as a soloist as well as in chamber music. 2012 she won the first price and a free class choice as a special honour in the finals of the Swiss youth music contest with her ensemble, the Beryl quartet. Johanna is being supported as a scholar by the Quartetto-Stiftung Basel.

Marios Kazas

Was born in Athens. He began his piano lessons at the Athens Conservatory, where he studied as a long term scholar under Yolanda Severi. Then, he continued as student under the soloist Dora Bakopoulou at the Athenaeum Conservatory and finished his studies at the Athenaeum Conservatory, where he received his bachelor degree with honourable notice.  He took part in seminars by Paul Badura- Skoda, Martino Tirimo Natalia Michailidou, Halina Alberth, Jean -Claude Pennetier, Irina Kherj, Metodi Matakiev, Leon Fleisher, Chantal Stigliani and others. Kazas was first and second place winner in several national contests and he received the second prize in the international piano contests "Art and Education in the 21st Century" and "Apollo". Already, he performed in the big concert halls of Athens (for example in the Theatre of Herodes Atticus and in the Megaron Musicis Athens), as well as at several concerts and festivals in Greece, France, Belgium, Luxemburg, Egypt, Turkey and Cyprus.

Chamber music and accompaniment of songs are Marios Kazas´ main work and he also works together with lyric artists with international reputation. Since May 2012 Kazas teaches and conducts the Piraeus Bar Association Choir. He is a Ph.D. student at the University of Athens and his studies are published in literary and scientific magazines.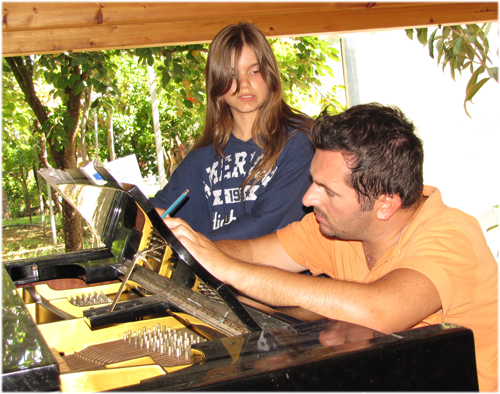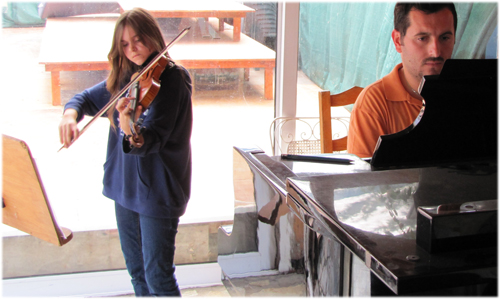 Johanna Tüscher and Marios Kazas in audition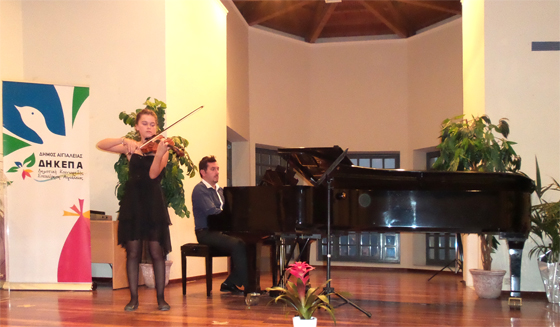 In the concert for the schoolboys an girls

For spontaneous people
Beginning of September until end of October 2013
Invitation to a musician and artist gathering at the Greek sea under get-to-know conditions.
Dear musicians and friends of all beautiful and good,
We invite you sincerely to our new starting project "Music Gathering at the Greek sea"! We wish to bring musicians from German speaking areas and local musicians and choirs together to creatively play music in spontaneous formations and to perform them in concerts in the neighborhood. Also, we would like to enrich our creative atmosphere with artists of all kind and we are happy about their artistic commitment.
You can get reasonable accommodation in double rooms (20 Euro/day/person) or single rooms (30 Euro/day/person) in the neighboring hotel Kanelli www.hotelkanelli.gr and Kiani Akti www.hotelkianiakti.gr or in our 2-room-appartment with cooking possibility for families and friends (4/5 person from 70 Eur/day) including the usage of four practicing-stages, one concert grand, three pianos, two e-pianos, one contrabass, one cello, two kettledrums and one drumset.
All of this in the garden of the muses, in the Hellenikon Idyllion in Selianitika, north-west Peleponnes!
You can find first inspirations to our establishment on our sites and for further information you can call us under tel.: 0030 26910 72488, mobile: 0030 6972263356 or you write us – hellenikon@idyllion.gr
We would be very happy to welcome you here!
With kind regards,
Andreas Drekis
Manager of Hellenikon Idyllikon

Past Events:
21st – 29th of June 2013, The Youth Symphony Orchestra Schleswig-Holstein

with 50 young musicians under conduction of Hajo Jobs is visiting us for the sixth time.

Concerts: on the 26th of June in Logos near Aigio in the forecourt of the folk museum, on the 27th of June in the medieval castle Kastro Kyllini and on the 28th of June at the beach spot of Agioi Theodoroi next to Loutraki.
Programme for the Greece trip 2013
Holstein Chamber Orchestra
Antonio Vivaldi
Sinfonia D-Dur RV 125
Georg Philipp Telemann
Concerto à 4 G-Dur
Joseph Haydn
Sinfonie Nr. 27 G-Dur
Jeffrey E. Turner
Eine kleine Bachmusik
(Brandenburgisches Konzert Nr. 5)
Bob Cerulli
Romantic Masters
(Tschaikowsky, Schubert, Schumann)
Pietro Locatelli
Locatelli´s Challenge
Randy Sabien
Leap of Faith
Doug Spata
Storm Trai
Chaotic Jazz Band
J. Zawinul
Mercy, Mercy, Mercy
M. Bonfire
Born To Be Wild
J. Chatterway
Electric Lady
P. Desmond
Take Five
B. Troup
Route 66
J. Zawinul
Birdland
12th – 19th of July 2013, The Youth Symphony Orchestra (AEG) Böblingen
100 young musicians under conduction of Stefan Bergdolt, with us for the fifth time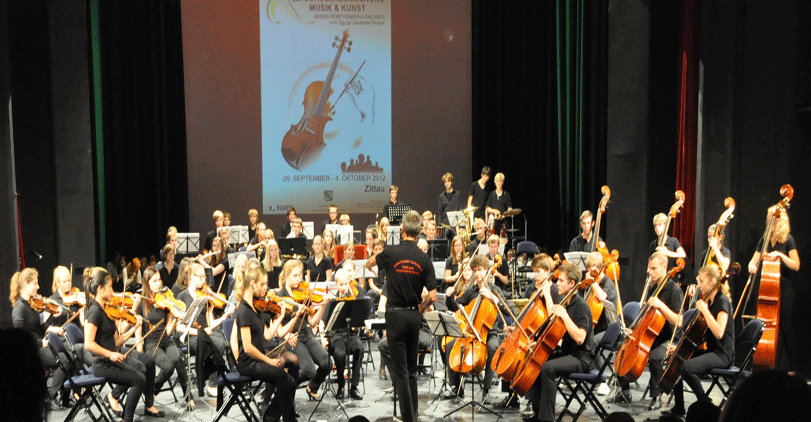 Concerts: on the 12th of July at the main square of Aigion, on the 13th of July in the medieval castle Kastro Kyllini, on the 15th of July in Messologgi, and on the 18th of July at the beach spot of Loutraki
Program
- Rossini, Wilhelm Tell-ouverture
- Mendelssohn, violin concert and 1st piano concert (each the 1st movement)
- Webber, Medley from The Phantom of the Opera
- Williams, Medley from Star Wars

A video from the concert:
in addition the big band in concert with these pieces:

Blues brothers Revue
Bemsha Swing
September (Earth, Wind & Fire)
Orange coloured Sky
Walking on sunshine
Spain
Take Five
Smooth
The Joy of cookin'
Libertango
Set fire to the rain
Sir Duke
Hay Burner
Blue Monk

and 6 additional Greek music pieces in accompaniment by the 60 person child choir of Aigion!

And a Greek piece oft the composer Georg Voukanos with singing from a poem of the poet Andreas Karkavitsas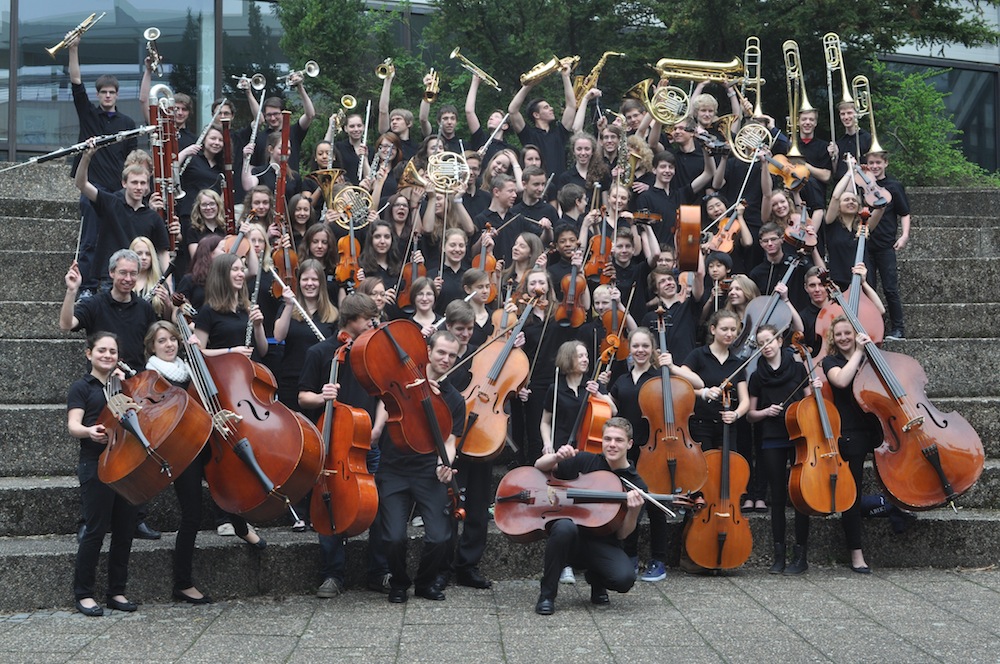 29th of July – 11th of August 2013, The Youth Symphony Orchestra Crescendo from Zürich
50 young musicians under the conduction of Käthi Schmid-Lauber with us fot the first time.
More than 60 juveniles from 15 to 25 study orchestra pieces together in a modern, symphonical setting.
As a special tradition of the youth orchestra choir singing is a constant part of the concerts more.

Concerts:
on the 31st of July at the beach spot of Selianitika,
on 05.08. in the medieval castle Kastro Kyllini,
on 07th of August at the village's theater square of Valimitika near Aigion ,
on 08th of August. at the main square of the city Akrata and
on the 09th of August at the beach spot Vouliagmeni near Loutraki


From the program

Mendelssohn from the 'Midsummer Night's Dream-Ouverture - Notturno -
The Wedding March
Jewish Rhapsody (Composition of Käthi Schmid-Lauber)
Songs out of different epochs and countries (among others a Greek song)
Film music (possibly 'Play to me the Song of Death' or 'Titanic' and so on)
Possibly Rhapsody in blue
And a Greek piece of the composer Georg Voukanos, The Hymn to Ioannis Kapodistrias with chant

Speak and philosophize in Ancient Greek
in the Garden of the Muses
21st Anniversary Celebration !
July 3 – 17 August, 2013 at the Hellenikon Idyllion
Travel to Greece and improve and deepen your knowledge of Attic Greek. Which friend of Hellas wouldn't be tempted? In the entire world there is only one opportunity to do so.
Students from many countries and backgrounds assemble in a large, shady garden on the rocky shores of the Gulf of Corinth and discover to their surprise that they can converse, read and discuss stimulating ancient texts all in the language of ancient Greece.

The seminar, a project of the Hellenikon Idyllion, has been offered by the center's founder Andreas Drekis for twenty years as a special opportunity for students of ancient Greek. His hotel also hosts musicians and artists, whose concerts and performances enliven many an evening. A short trip to see objects of interest and a production in an ancient theatre is also possible.
The Hellenikon Idyllion is located on the north coast of the Peloponnese near Aigion, a Greek vacation destination thanks to its particularly alluring and relaxing character. Accommodation is available in rooms with 3-4 beds for student participants. Single and double-bed rooms are also available to adults upon request.
The price for accommodation in the 3-4 bed rooms and for the course is 300.- Euros. It is a promotion project of Andreas Drekis, Hellenikon Idyllion

Please register (mandatory and binding) with Prof. Stefano Pagliaroli hypnomachos@libero.it