Program 2011
17.07- 02.08. 2011 Violin/ Chamber music with Tania Sikelianou
Curriculum: Tania Sikelianou

Tania Sikelianou, born in Greece, is a composer and violinist. She studied violin with Prof. J. Georgiadis and Composition with Prof. M. Travlos.

Tania Sikelianou attended various violin master classes e.g. the 'Summit music festival' in New York (scholarship Onassis Foundation), the 'Recontres Internationales de Jeunesses Musicales' in Geneva and the 7th 'International Masterclasses' in Brugge with A. Brussilovsky. In addition, she took violin lessons from A. Brussilovsky in Paris and from N. Patrikidou in Athens (2001). In the Conservatorium of Amsterdam with Joyce Tan, Reinette Thiadens. She performed in many in recitals and festivals in Greece, USA, Berlin and the Netherlands e.g. concert with Vanessa May in Cyprus (2001), concert with the 'Orchestra of byzantine music' of D. Papapostolou at the Kennedy Center in Washington DC (2003) and at the 'International Gaudeamous Music Week' (2005), Italian Institute 2009, Athens Fringe Festival 2009, Schumann House, Bonn 2009, Champ D'Action,de Singel, Antwerp 2011. Furthermore she participated in the music recording of the movie 'Paradise now' (2005).

Tania Sikelianou obtained her Bachelor and Master degree in composition in the Conservatorium van Amsterdam (Prof. W.Henderickx). She had composition lessons with Prof. K. de Vries, Daan Manneke, Fabio Nieder and attended seminars with Theo Loevendie, Tan Dun & Fabio Nieder. In addition she followed a course in film music with Prof. J. Haanstra (2005) and a course in electronic music with Prof. J. Tamminga and live electronic music with J.Zwaanenburg.

She followed the Sonology course in Den Haag and she participated in the Field recording workshop with Justin Bennet (2009-2010). She has also special interest for writing music for stage and theatre music. In September 2009,she participated on the 1st Contemporary Dance Festival in collaboration with a dancer-choreographer in Greece (Patra), as a composer and as a violinist.Currently she attended the Champ d'Action, Laboratorium 2011 workshop, in Antewrp with a lot of success.

She likes to combine contemporary music with the traditional Greek music (Byzantine). Her works have been performed in concerts in Greece, Germany, Belgium and in The Netherlands. In May 2008 she performed her first Opera 'Medea' in collaboration with the Theaterschool of Amsterdam. In June 2008 a new piece performed by the Nieuw Ensemble. In April 2007 Tania Sikelianou was the composer of the Week, Young Talent 2007 on Radio 4. Her work has been perfomed at the Gaudeamus Music Week, project 'Asko's 7×7 for young composers' with Asko Ensemble, Composition project 'Dokter Faustus Schönberg, Mann, Webern' with the Goeyvaerts Strijktrio. In April 2006 Ms. Sikelianou was a guest composer for the project 'Seven deadly sins' between the 'Nederlands Blazers Ensemble' and the 'Eerste Christelijk Lyceum' with a performance in the 'Muziekgebouw aan 't IJ' in Amsterdam (The Netherlands).

She selected as a Semi-finalist in the Queen Elizabeth Competition for Composition, with her Piece: Morphoplasia, for piano and orchestra (2009) and she got the first prize in the International Opera Competition for Composition 'Andreas Drekis' award in Greece (2010) for her new Opera 'Helike Athanatos'.

Currently she is following the advanced master programme soloist Contemporary music (Violin) in the University college in Gent. More Informations by:
E- mail sik_tania@hotmail.com
www.taniasikelianou.com
Violoncello/ Chambermusic with Christine Dalvai
Curriculum: Christine Dalvai
Born in Bolzano (Italy)
Study of cello with Prof.U. Ferriani- Conservatory Bolzano
Continuation at the Conservatory Milan " G. Verdi" with special mention due to excellent performances
1980: Cello-diploma, adjacent partecipation in the"Teatro alla Scala" and the "Rai" in Milan
Tours with several companies ( Duos, Trios, quartets and wich the orchestral "Gli Accademici")
Partecipation at Opera seasons in different Italian regions- as second or first violoncellist
Master classes with Michael Flaksman, Dimitrij Ferschrmann and Boris Baraz.
1996: certificate of honour for the partecipation in tue International Competition "T.I.M."
1998: 2. Price ex aequo at the International Competition " Estate Musicale" at the Portogruaro Festival in Chamber Music
Chamber Music concerts in South-Tiyrol (Italy)
After the passed competition for teachers, personal roster since 2001 as violoncello teacher in several Music schools in South- Tyrol.
For more Informations write to dalvaichristine@gmail.com
---
1st July - 28th August 2011

Masterclass for singing, 19th edition: 4 aria-evenings with some professional singers included

under Prof. Jagna Sokorska Kwika,
Professor at University  Essen
/Germany
Tel./Fax +49 (0)2098 38 87  e-mail  Kwika@t-online.de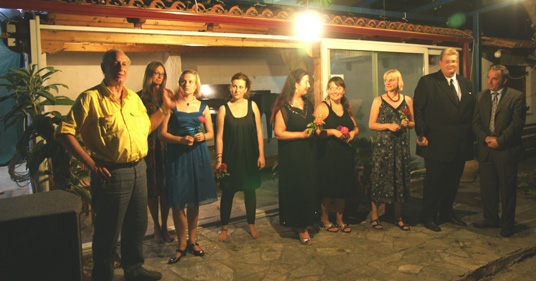 August 7th – 21st 2011
Speak Ancient Greek and Think Inspired Thoughts: 19th Edition
Travel to Greece and improve and deepen your knowledge of Attic Greek: what friend of Hellas wouldn't be tempted. In the entire world there is only one opportunity to do so. Students from many countries and backgrounds assemble in a large, shady garden on the rocky shores of the Gulf of Corinth and discover to their surprise that they can converse, read and discuss stimulating ancient texts all in the language of ancient Greece.  The seminar, a project of the Hellenikon Idyllion, has been offered by the center's founder Andreas Drekis for eighteen years as a special opportunity. His hotel also hosts musicians and artists, whose concerts and performances enliven many an evening. An short trip to see objects of interest and a production in an ancient theatre is also possible. The Hellenikon Idyllion is located on the north coast of the Peloponnese near Egion, a Greek vacation destination thanks to its particularly alluring and relaxing character. Accommodation is available in rooms with 3-4 beds for student participants. Single and double-bed rooms are also available to adults upon request. Students who wish to continue the study of the Ancient Greek language and its literature have the opportunity to remain at the Hellenikon free of charge until the end of September (for more information please consult the Hellenikon Idyllion's internet site.) The price for accommodation in the 3-4 bed rooms is 200 Euros. The price of the course (4 hours a day) is 50 Euros to be collected by the teacher.
Please register (mandatory and binding) with Helmut Quack Eritstr. 23, D-25813 Husum,mail-adress: helquack@freenet.de  

Hellenikon Idyllion, Andreas Drekis, GR-25100 Selianitika/Egion Tel. 0030/26910/72488 Mobil Tel. Nr. 0030/6972/263/356 e-mail: hellenikon@idyllion.gr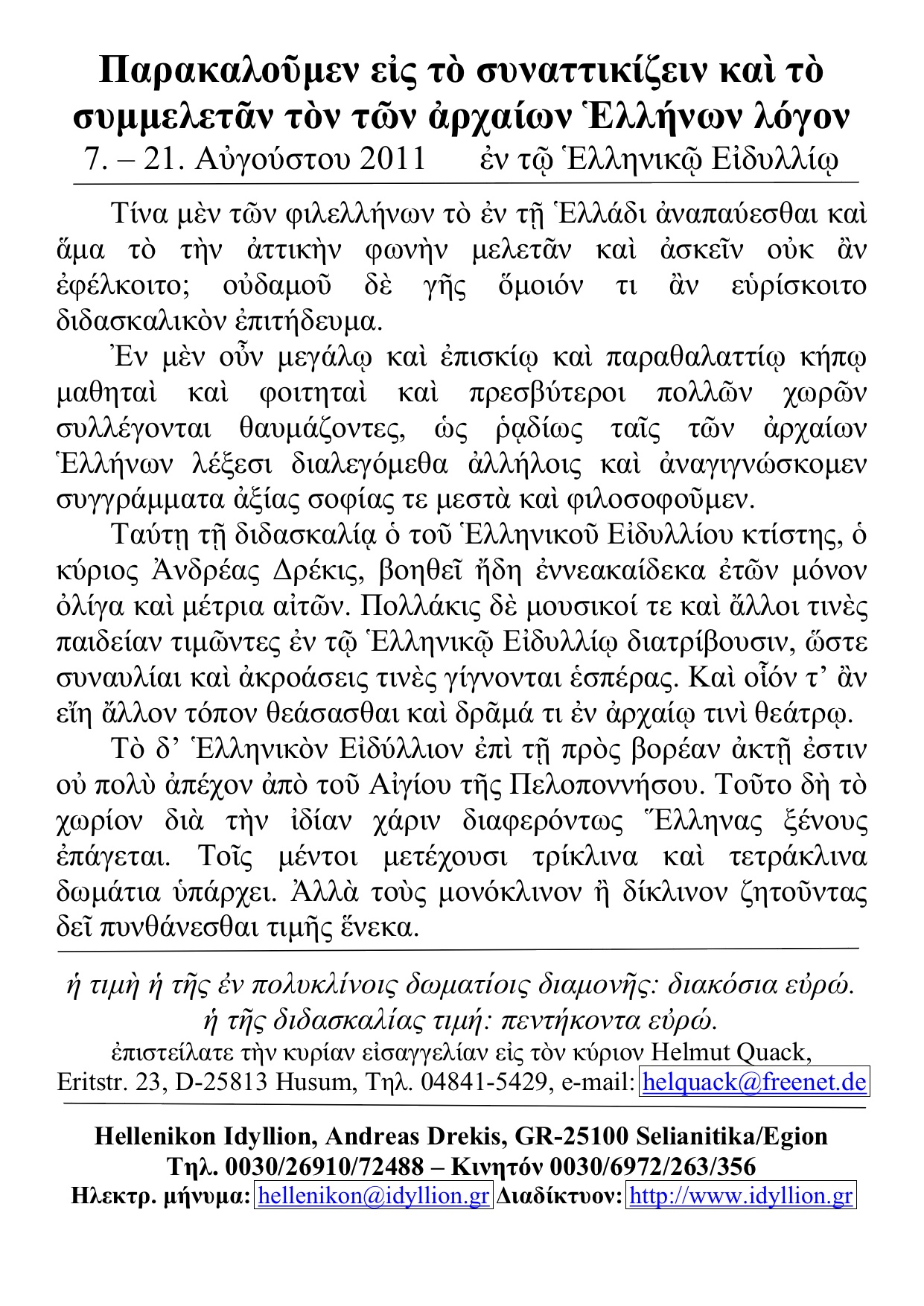 The participants of the Seminar in 2009 in the garden of the muses with Helmut QUack in the middle and Stefano Pagliaroli sitting on the right.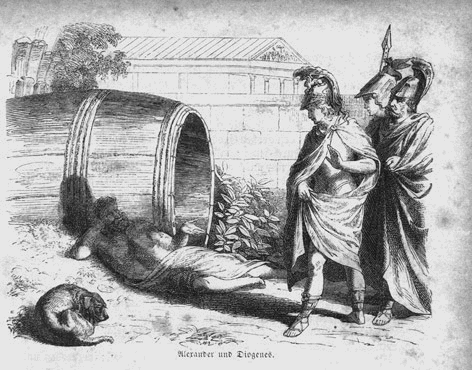 When Alexander the Great met the cynical philosoph Diogenes in Korinth, he asked him: "What is now your greatest desire?", and Diogenes answered: "Please step aside, because I cannot see the sun!"In the Hellenikon Idyllion people don't live in barrels yet, which can be turned to the sunlight, but there are a lot of Hollywood- swings, and so you can choose to rest relaxed and philosophize in the shadow or in the sun.....
---
28th August - 4th October 2011
Invitation to a unique experience

The unique ancient theatre of Egeira, only 30km from Hellenikon Idyllion
INVITATION! Orchestras and choirs, who are willing to perform one of the prize-awarded operas, have the opportunity to stay from 28.Aug. until 4.Okt. 2011 at "Hellenikon Idyllion" free of charges for 21 days until 75 persons , for final rehearsels and a performance of the opera in Greece.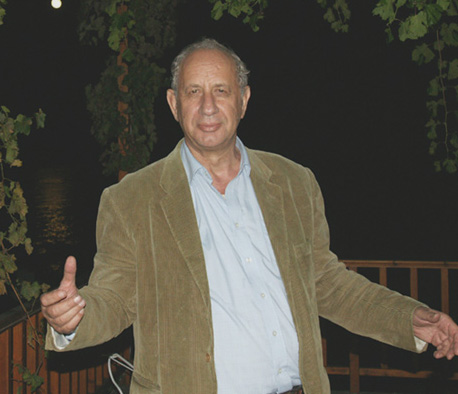 More Informationen about the program: Andreas Drekis, General manager of Hellenikon Idyllion Tel. 0030 26910 72488 , 0030 6972263356
---
November 2011 - 24th March 2012
our special winter-muses-promotion
click Winter/talvi/hiver

In this period we have 4 different kinds of olive, grapefruits, tangerines, oranges, kakis, grapes and a lot more fruits. We also offer you time for thinking and relaxing together with creative people who want to explore the greek culture in Selianitika. And you only have to pay for your expenses. The composer Herman Rechberger who is in charge in the winter season when I'm abroad, will cordially receive you with his wife as he did in the last winter, i. a. for the 2 orchester from Finland.
Yours sincerely,
Andreas Drekis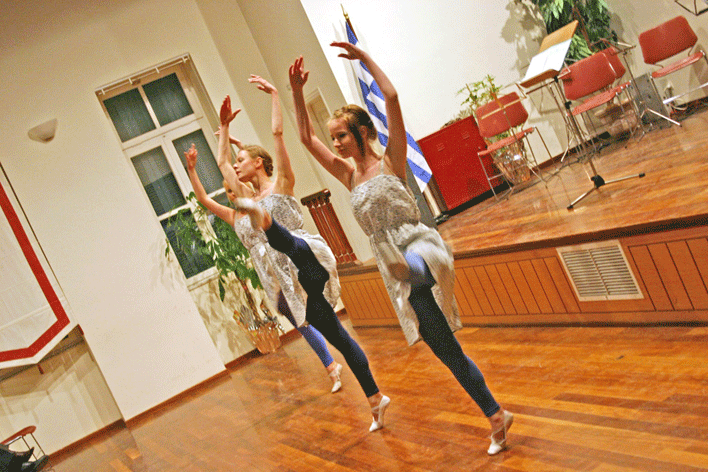 Concert and dance 26 /3 /2011 in Egion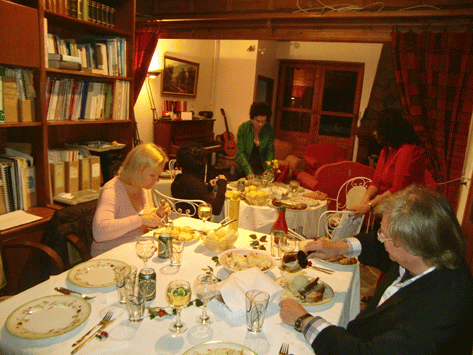 At Hellenikon Idyllion in the winter season